Welcome to What's New Wednesday, where we profile local startups—and the entrepreneurs behind them. This week, meet Tara Elder, who launched Simply Helpful in April to aid entrepreneurs and other business leaders overwhelmed by their to-do lists.

Business: Provides office-support services on a contract basis

Location: Indianapolis

Phone: 946-1993

E-mail: tara@simply-helpful.com

Website: Simply-Helpful.com

Founded: April 2012

Owner: Tara Elder

Owner's background: Elder, 33, enrolled at Indiana University as an art major but changed her focus after deciding she didn't want to make her way as a "starving artist," a stereotype she realized was closer to reality than hyperbole.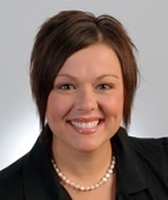 Elder
She graduated in 2001 with a bachelor's degree in psychology—a sure ticket to "buckets of money," Elder joked—and landed a job in event planning at the Indianapolis Museum of Art.
After five years there, she spent another five years in admissions at the Art Institute of Indianapolis, which allowed her to blend her passion for the arts with her interest in workplace psychology by mentoring students.

When she'd had enough of the high-pressure world of proprietary education, she hired local career consultant Kathleen McDonald Siegmann's Career Investments to help figure out her next step. The recommendation: Become an entrepreneur.

But Elder balked, instead accepting short-term consulting assignments for other Career Investments clients. She helped wrangle paperwork, document processes—whatever was bogging down their to-do lists. She loved it and decided to give Simply Helpful a go.

"It is so much easier to organize someone else's things," she said with a smile.

Why started business: The current economic environment has forced businesses of all sizes to reduce staff, increasing the workload on employees left behind. And the smaller the staff, the bigger the burden.

Elder cites a 2012 TD Bank survey that found 35 percent of small businesses report being somewhat or significantly understaffed. But most simply can't afford to hire full-time help.

Simply Helpful aims to carry some of the load, taking on routine operational tasks so team leaders can focus on the big picture—like keeping customers happy.

"It's so rewarding to come in and see that look of relief on their faces," Elder said.

Competitive advantage: Unlike some other staffing agencies, Simply Helpful does not require long-term commitments or upfront fees. Clients can sign on for as few as three hours of help a week for a flat fee: $35-$40 an hour, depending on which of the firm's two so-called "stress relievers" are assigned the job.

Elder and full-time employee Vicki Helderman discuss each client's needs and figure out whose skills set is a better match for the task at hand. Because they're not temporary employees looking for full-time work, they can commit to sticking around until the job is done.

"Clients don't have to constantly retrain us," Elder said. "They know who's going to walk in the door."

In addition to everyday tasks like filing and billing, Simply Helpful's menu of services include policy development and leadership coaching—something Elder said has been popular with entrepreneurs who are used to doing everything themselves.

"As a solo-preneur, I understand," she said. "Their business is their livelihood, and they've never had anyone help them before. They don't know where to start."

Potential problem and contingency plan: Elder has been pleased with the early response to Simply Helpful, signing up 10 clients and filling her schedule within three months of launch. But she's being careful not to rest on her laurels.

"I can't put all my eggs in my current clients' basket," she said. "I'm continually prospecting, seeing who else might need our services."

So far, she has been able to avoid tackling the dreaded "double sell"—convincing a prospective client that it needs help and that her firm is the one to provide it.

"People are gravitating to this concept," Elder said. "Everywhere I go, people tell me 'I know someone who needs you.'"

First-year goal: After a decade of working to achieve her employers' goals, Elder opted not to formalize any performance targets for her first year on her own. She'll be satisfied to have enough work to keep her and Helderman busy for 40 hours a week.

"This is not about being the next Starbucks," Elder said. "It's about finding the right balance for myself, my employees and my clients."