Indianapolis-based Westport Homes Inc. plans to develop a site in Fishers originally proposed for an assisted-living facility into a neighborhood.
The builder would construct nine buildings, each with three to six attached homes, at the southwest corner of 146th Street and Allisonville Road. Altogether, 40 single-family units ranging in price from $215,000 to $235,000 would be offered (see rendering below).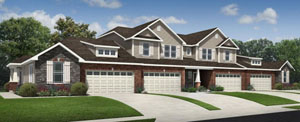 The property is bounded by the White River to the west, the Kingston Estates subdivision to the south, and the Northridge Gracious Retirement Living community—built by Carmel-based GSA Investment Co. in 2012—to the north.
In 2015, the 9-acre site was expected to be developed into an assisted living facility, but those plans never came to fruition.
Shelbyville, Kentucky-based Thoroughbred Management Co. LLC had proposed building two 9,500-square-foot buildings providing assisted living for senior residents—as well as three additional single-story structures, each with two attached single-family units, for middle-aged or senior empty nesters who might eventually transition to assisted living.
Fishers had approved a planned unit development ordinance for the assisted living project in 2015, but the project was never developed.
Westport's project is named Overlook at the White River. The units would be one or two stories, ranging in size from 1,100 to 1,700 square feet, and would target empty nesters looking for low-maintenance abodes.
The city council has already updated the ordinance to allow for Westport's development. Westport goes before Fishers' Technical Advisory Committee on Thursday for plat approval.
Construction is expected to begin later this year or early next. 
Please enable JavaScript to view this content.