Klooz Brewz and Public House is on track to become Lebanon's first production brewery when it opens at 125 N. Meridian St. in May.
Founder Patrick Klooz has been homebrewing out of his garage for years. Over time, he's become a regular participant at local beer festivals. Now, Klooz is working to piece together several former businesses in the first floor of the DeVol Building to open up a 3,600-square-foot brewpub.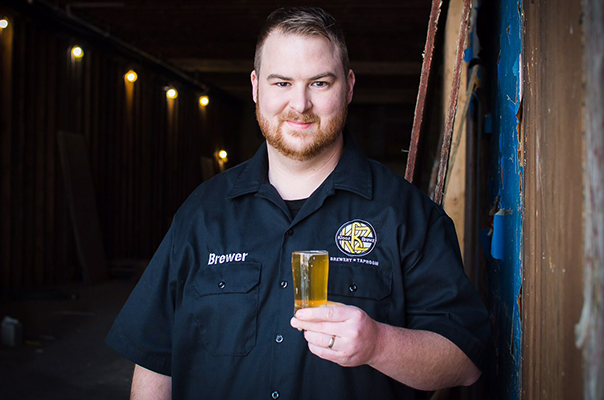 "I'm a born-and-raised local, so it was important to me to be a part of the downtown's revitalization," Klooz said. "We wanted to open in the historic district. We want to brew what the community wants."
Getting up and running hasn't been easy. Many buildings in the Lebanon's downtown have wooden floors that wouldn't support the brewery's planned five-barrel brewhouse system, so finding a good location took time. And Klooz's original financing for the $650,000 project fell through at the start of the pandemic.
By combining the former Patrick's Office Supply space with the space now occupied by attorneys Michael Gross and David Truitt, Klooz has found a way to make things work. Though a majority of the 1896 building does have wood floors, a 1970s renovation on the north side of the building offers the concrete foundation he needs to make an anticipated 500 barrels of beer in the brewery's first year.
Klooz Brewz will feature 24 taps, offering four ciders and a lineup of house beers including cream ales, pilsners, brown ales, stouts, sours and more. Fans have requested hard seltzers, and the business is considering future ventures in wine and spirits.
"We want to brew what the community wants," Klooz said.
On the food side, Klooz said the family-friendly and affordable menu will feature German-inspired dishes. He's also hoping to offer a rotational farm-to-table menu. Klooz said he expects the food ticket to run anywhere from $10 to $20.
The restaurant will seat roughly 140 patrons in total in its indoor dining area and its year-round outdoor seating section on Washington Street. Klooz expects to hire as many as 15 employees at the brewpub.
In other North of 96th news:
— Razor Roar, a combination barber shop and wellness lounge at 7161 Whitestown Parkway, hosted a ribbon-cutting on Nov. 5. Owner Edwin Veguilla is a liver transplant patient and cancer survivor who wanted to do something trendy with his barbering and hairstyling talents, while also promoting wellness.
He's since partnered with Malibu C, a Beech Grove-based manufacturer that produces Vitamin C-infused hair and skin products.
"They were basically the first company to pioneer the use of ascorbic acid Vitamin C on the external part of your body," Veguilla said. "We carry the products here and we've incorporated the products into our barbering services."
Malibu C's products, Veguilla said, promote cell regeneration, fight the look of aging and can remove mineral buildup from your shower's hard water. After the pandemic, Veguilla said he also hopes to offer wellness drinks from the same line to help boost customers' immunity.
On average, Veguilla expects to charge customers $40 for a haircut, $65 with a beard trim and $70 with a shave.
The 1,800-square-foot space features eight main barber stations, two lounge areas and a private barber station for high-end clients or people who want to take every precaution when it comes to COVID-19 transmission.
Veguilla said he's just one of three current employees, but he hopes to hire more as demand grows. Razor Roar is taking appointments, and a grand opening celebration has been planned for three months from now.
— Craig Barnum, founder and president of CLB Restaurants, is planning to open a second Tucci's location by mid-January, this time in Carmel City Center.
The first Tucci's opened in Dublin, Ohio, in 1998. The wine-centric, upscale restaurant features artisanal pizzas, fresh fish, steak and pasta.
In 2015, CLB Restaurants opened the Langton's Pub & Grille at the southwest corner of 126th Street and Rangeline Road. After about a year of operations, the company closed the restaurant and turned a 2,000-square-foot space on the second floor into a private room for the company's neighboring restaurant, Matt the Miller's Tavern.
Now, Barnum plans to fill the roughly 3,000-square-foot space downstairs with a Tucci's. The dinner-only restaurant will have room for about 75 patrons and a full bar.
"My most successful restaurants have been smaller floor plans," Barnum said. "I really like that for this location, so we can have more of an upscale environment in there and a small intimate space. I love the fact that they're going to be able to walk from restaurant to restaurant. It just opens up a lot of potential for that corner."
Barnum said he was encouraged to open a new Tucci's in Indiana after seeing the response the original Tucci's got upon reopening in May after closing temporarily for the pandemic.
"Carmel is as close to normal as normal can be right now. They're much more into daily life, living, going out than most markets I travel to," Barnum said. "My only real concern is, during the winter, if cases continue to spike, will Indiana change some of their COVID rules?"
— Serenity, at 135 S. Main St. in Zionsville, plans to close on Dec. 28. The brunch, lunch and tea-time restaurant opened in 2008 in one of Zionsville's first homes. In addition to food and drink, Serenity offers etiquette classes and murder mystery dinners.
Owner Karin Glass wrote on the restaurant's website that she is working on new and exciting opportunities starting in 2021, but she did not elaborate on what might come next.
— Flix Brewhouse, at 2206 E. 116th St. in Carmel, reopened on Nov. 5 after an eight-month hiatus due to the coronavirus pandemic.
The theater's ticketing system now places guests two seats apart. In addition to upgraded health and safety practices, Flix also installed medical-grade bipolar ionization air purifiers in each auditorium's separate HVAC system. Those who still aren't comfortable returning to the theater can order curbside pick-up through the theater's new app. Flix offers a full menu that includes pizza, sandwiches, fish & chips, burgers, wraps and other entrees.
Please enable JavaScript to view this content.