Westfield and the state officials this week identified a preferred route for a joint $15 million State Road 32 reconstruction project through the city's downtown.
Two years ago, the Indiana Department of Transportation and city officials started looking at six different ways to reconstruct State Road 32 from Poplar Street to just east of Timberbook Run. Indianapolis-based American Structurepoint delivered its state-sponsored environmental assessment one month ago and the city announced this week that its preferred design expands State Road 32 to the south to minimize the project's impact on historic homes.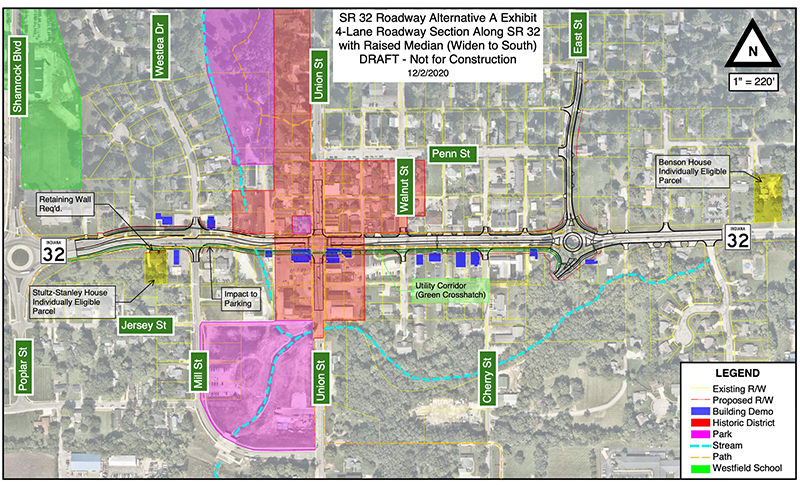 "We're just trying to bring the current road up to a level of service that helps our citizens," Westfield City Engineer John Nail said. "Of course, it's a balancing act. You want to have good mobility with the traffic, but at the same time, we have to be respectful of our past."
Currently, the existing stretch of road serving as Westfield's main street has just one eastbound and one westbound lane with on-street parking. The reconstruction project aims to reduce congestion issues by widening the road to four lanes, with a raised median and dedicated turn lanes. As part of the project, the State Road 32 and East Street intersection will also be turned into a roundabout that includes a stubbed southern extension that will eventually be connected to an extended Jersey Street in 2022.
As of now, the State Road 32 reconstruction project is slated to start in winter 2022 so that the road may reopen in summer 2024.
American Structurepoint quickly eliminated the possibility of not building or bypassing the downtown completely. Instead, the environmental assessment considered ways in which the road reconstruction project might minimize impacts to an historic district and several potentially historic homes while still addressing traffic issues.
Though the city's preference to expand the road south would accomplish the project's goals by eliminating backups into the Poplar Street Boulevard Roundabout, the route still requires six buildings within the Westfield Historic District be removed or relocated: 101, 102, 103, 104 and 108 S. Union St., as well as 111 E. Main St.
Had the city decided to expand to the north, another five historic homes would've been impacted, Nall said.
"We're minimizing impacts to that district," Nail said.
Beyond those historic homes, the city's preferred route will require one additional residential building and eight commercial buildings to relocate.
Nail said one positive aspect of the alternative is that two of those buildings were already slated for demolition as part of Old Town Design Group Development's $25 million apartments, condominium and retail project, called Union Square at Grand Junction. That project is expected to be complete by 2021, in tandem with the city's development of Grand Junction Park and Plaza.
The city's preferred route is not the final design, and there are opportunities for public comment planned starting next year. A written statement from the city said interested parties will be able to provide input on mitigation at a January meeting. There will also be a Community Advisory Committee and other public information meetings scheduled for additional feedback before INDOT starts acquiring the necessary properties in fall 2021.
"Although we have done a lot of work, there is still more to come," Westfield Mayor Andy Cook said in a written statement. "As we continue the environmental work, we are certain to see some modifications. But I am glad our residents and business community can begin to see how our downtown will take shape."
Please enable JavaScript to view this content.