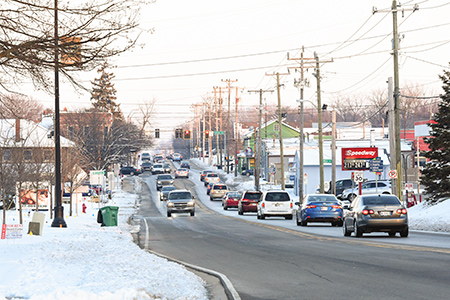 Come rush hour, traffic on State Road 32 through downtown Westfield all but comes to a standstill.
And so, as city officials planned for the $35 million Grand Junction Plaza a block south—a place they say will strengthen Westfield's downtown and give residents a place to gather—they knew something needed to be done about the busy road, which is also its Main Street.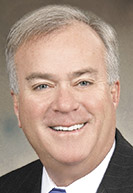 Cook
"We have a terrible traffic problem down there," Mayor Andy Cook told IBJ. "It's one lane in each direction, and there is no alternate, there is no bypass. … It's almost gridlocked now in the morning and at night."
Finally, relief is in sight.
By 2022, the city and the Indiana Department of Transportation expect to begin widening a half-mile section of the thoroughfare from Shamrock Boulevard to East Street. The city/state partnership could solve the traffic problem as many as 10 years sooner than if the city had waited for the state to act on its own.
The road project could not only ease traffic but also bolster Westfield's downtown long term. In the short term, it could significantly disrupt local businesses, some of which will have to move to make way for the wider road.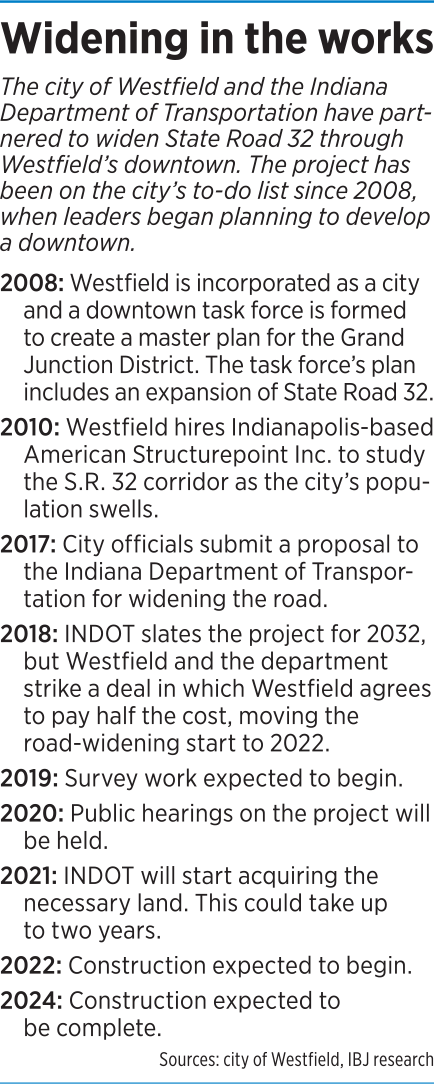 Cook said the city will do its best to help businesses and retailers relocate, hopefully within downtown. After all, the goal is to create a district full of local businesses, not chains.
Westfield started planning for Main Street upgrades in 2008 when its Grand Junction Task Force was formed to study downtown, which currently is small and easy to miss. Plans call for a six-acre public plaza to be built at the southwest corner of Union and Jersey streets that will include trails, a cafe, a pavilion, an ice skating rink, and a play area for children.
Teresa Skelton, former executive director of the Downtown Westfield Association, which oversees the Grand Junction Task Force, said widening S.R. 32 has always been a vital part of Grand Junction Plaza plans.
Skelton said she hopes easing the traffic flow will attract more people to "come through and visit our community as opposed to just traveling by on a bypass."
Before the agreement between INDOT and Westfield, the state didn't plan to widen S.R. 32 in that area until 2032, Cook said. To speed up the project, Westfield agreed to pay half of the $15 million anticipated cost, he said. If the project goes over budget, Westfield will pick up the rest of the tab.
Cook said the city is prepared to pay its share with cash from road impact fees and won't need to take on debt.
Plans call for Main Street to be widened to two lanes in each direction with a center turn lane. A roundabout is planned at East Street, and 8-foot-wide sidewalks will be added on each side of the road.
Eventually, Westfield also plans to build a $4 million pedestrian bridge over Main Street and add a $1.4 million extension of Jersey Street from Union Street to Cherry Street, to create a second east-west thoroughfare. The city will pay for those projects.
The Main Street widening is expected to begin in late 2022, with a completion date in early 2024, but land acquisition could take up to two years, which could delay construction, Cook said.
Early on, city officials said several parcels of land on the south side of S.R. 32 would need to be acquired (and their buildings demolished) to make room for the wider road.
INDOT and Westfield now expect $5 million of the project's cost to be spent on buying property from about 20 landowners.
Cook said he didn't know exactly which businesses will be displaced. (The city will have a better idea about which parcels need to be acquired once the project's lead engineering firm identifies options.) But he said those businesses in buildings "really close to the pavement" are most in jeopardy.
The state will handle land acquisition, and negotiations will likely start in 2021, Cook said.
INDOT's strategic communications director, Scott Manning, told IBJ in an email that the project is in early stages of design and environmental review. So it will be some time before the department knows specifically "what the real estate impacts will be."
But some downtown business owners say they've known for some time they would have to move.
Cheryl Hunter, co-owner of Erika's Place, an eatery on the southeast corner of Main and Union streets, said she's known for years that Main Street would eventually be widened.
"I do feel that something is necessary but feel that there is not going to be anything left of the old downtown Westfield as I knew it when I was a kid growing up [there]," she told IBJ in an email.
Erika's Place opened in Westfield in June 2012. It's the restaurant's second Hamilton County location—the first opened in Cicero in 2011.
Hunter said she was recently told she probably won't have to move for at least three years. When that time comes, she said, she'll look for another location in Westfield; she finds the city a good central location.
The city's vision is to create a downtown that broadens the atmosphere started on Park Street, a couple of blocks south of Main Street. A couple began purchasing homes there about six years ago and renovating them into local restaurants, growing the street into a sort of restaurant row.
"That's how we want to develop our downtown," Cook said. "We're not looking for big, massive structures. We're not looking for high-density whatever. We want it to be its own character, and that is quaint, local. So, these local businesses that are already down there, we're going to be working with them very closely to help them to the extent we can."•
Please enable JavaScript to view this content.