A new bar and eatery called Jailbird—which takes its name from a Kurt Vonnegut novel and its culinary inspiration from India—is in the works at 4022 Shelby St., just south of Hanna Avenue and across from the University of Indianapolis. 
Jailbird will be the second project in the area for co-owner Joshua Gonzales, who opened the Thunderbird bar in Fountain Square at 1127 Shelby St. in 2014. The two establishments are about three miles apart.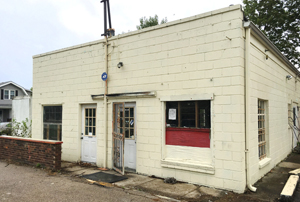 Gonzales' partner in Jailbird is William Zink, who bought the 4022 Shelby St. property (see image at right) this spring. The 1,864-square-foot building, which sits on a quarter-acre lot, sold for $154,900, according to Marion County property records. The building most recently housed a second-hand movie/music/comics store called Little Shoppe of Horrors, which closed about two years ago.
The site was attractive, Gonzales said, in part because of its proximity to IndyGo's planned Red Line bus rapid-transit line. The line, set to open next year, will run between the University of Indianapolis and Broad Ripple, improving connectivity along the entire corridor.
Gonzales said his goal with Jailbird is to create a local bar that attracts both neighborhood residents and college students.
"I really want it to be a space that is kind of driven by inclusion," Gonzales said, adding that he feels Indianapolis' culinary scene has become too foodie-oriented and high-end, which scares away a lot of potential customers.
"I think there's a lot of missed opportunities," Gonzales said.
To that end, Gonzales said Jailbird will feature a bar where college students can come for beers and shots, along with a short list of classic cocktails.
The menu, which is being designed by chef John Herndon, will feature what Gonzales describes as "standard kind of pub food with an Indian twist." That means things like curry-seasoned burgers, tandoori chicken wings, fried samosas and a selection of vegetarian and vegan options.
In keeping with the theme of inclusion, Gonzales said he aims to keep prices affordable. "You're not going to see $12 cocktails or $20 hamburgers."
Gonzales he named his establishment after the 1979 Vonnegut novel "Jailbird," whose themes include both the power wielded by corporations and the importance of food.
Gonzales said the restaurant could open sometime next year, but it's too early to say exactly when.
The interior of the building has been gutted, but otherwise there's much work to be done. The establishment is still working to secure the necessary building permits and liquor license.
In other news:
The mobile-payment app Skip is coming to all of Ricker's convenience stores across Indiana by the end of next month.
Users who download the free Skip app can use their smartphones as a UPC scanner, enabling them to add items to a virtual "shopping cart" that's linked to a credit card or other payment source. Before leaving the store, users press a "checkout" button to pay for their items without having to stand in line at the cash register.
Participating Skip retailers have in-store security cameras and other technology that allows employees to keep tabs on who is using the app to pay for purchases, Mann said. 
"Essentially, it's frictionless. No stopping, unless you have age-restricted items like alcohol or cigarettes," said Skip Marketing Lead Marshall Mann.
Based in Salt Lake City, Skip launched in 2014 in 51 grocery stores in the western U.S. The company recently pivoted to the convenience-store market, and Ricker's is the first convenience chain to launch Skip service, Mann said. 
"We do have a bunch of signed contracts already. This is just the one that's rolling out first," Mann said. 
To date, Mann said, Ricker's is the only convenience chain in Indiana that has signed on with Skip—but that could change because retailers are continuing to sign up with Skip.
Based in Anderson, Ricker's operates more than 55 convenience stores throughout the state.
Please enable JavaScript to view this content.