After operating for decades downtown, Krieg Brothers Religious Supply is set to open in a new and nontraditional location—a carriage house at 3152 N. Pennsylvania St. in the Historic Meridian Park neighborhood.
The retailer, which is temporarily closed while it deals with the move, plans to open early next month in its new spot.
"We just feel so blessed to have a place, and we're really excited about it," said Jane O'Connor, who owns Krieg Brothers with her husband, John. Their adult son, Craig, serves as the business' president.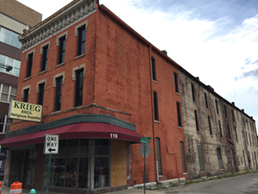 Krieg Brothers operated for decades at 119 S. Meridian St. (IBJ file photo)
The carriage house sits on property that also contains a private residence at 3148 N. Pennsylvania St. The O'Connors are leasing the carriage house space from that homeowner.
It's an unusual arrangement, in that the carriage house is zoned for commercial use but the rest of the property, including the private home, is zoned residential even though both structures are on the same parcel of land. 
The carriage house has been the site of previous businesses through the years, including a photography studio.
The retailer plans to place signs both on Pennsylvania Street and at the carriage house to help customers find it. The 3,682-square-foot building backs up to a north-south alley that runs between Pennsylvania and Meridian streets.
This will be the third location for Krieg Brothers within the past two years.
Krieg Brothers operated for decades at 119 S. Meridian St., a few blocks south of Monument Circle. The O'Connors bought the business in 2014 but had to vacate that space quickly in late 2017, because inspectors found the building structurally unsound. That building is being renovated for use as condos.
After a hiatus of about six months, Krieg Brothers reopened at 536 Market St. That was always understood to be a temporary location, Jane O'Connor said, because the building was up for sale at the time Krieg Brothers moved in.
A twist of fate—or faith, perhaps—led the O'Connors to find a new home for their business.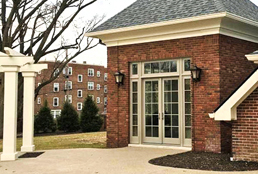 Krieg Brothers plans to open in the carriage house in early April. (Image courtesy of Krieg Brothers)
Last year, Jane O'Connor said, after she and her husband had prayed for guidance about finding a new location, a regular customer visited Krieg Brothers at its Market Street location and struck up a conversation with them about their need to relocate. The Pennsylvania Street homeowner happened to be in the store, overheard the conversation and stepped forward to offer her carriage house as a rental.
The O'Connors closed the Market Street location in late January. They moved into the carriage house Feb. 1 and have been getting things organized since then, with the goal of reopening the first week in April.
Krieg Brothers sells Bibles, rosaries, crucifixes and crosses, gifts for religious occasions such as baptisms, weddings and confirmations, and other items. It also sells a variety of clerical attire, candles, altar linens, and other items for both Catholic and Protestant congregations. 
The retailer has continued serving its church customers even during the move to a new spot, Jane O'Connor said. Krieg Brothers carries some of its church wares in-house, but it also has a group of vendors it uses to fulfill customers' special orders.
Please enable JavaScript to view this content.