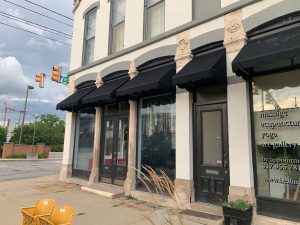 Longtime local company JP Parker Flowers, which has supplied flowers to everything from Indy 500 events to 2012 Super Bowl gatherings, has vacated its storefront at 801 S. Meridian St. because of COVID-19-related business disruptions.
For the time being, JP Parker will handle all its operations from its Franklin location, a 4,500-square-foot facility at 337 E. Jefferson St. The 10-acre Shelby County farm where the business grows its own flowers also remains in operation. And the company has recently added a floral truck that can serve as a mobile retail space.
Owner Pamela Parker, who founded the floral company in 1986, said she couldn't justify the expense of operating two retail locations, especially because so many gatherings and events have been delayed indefinitely because of the pandemic.
JP Parker handles weddings, sells individual arrangements and is a vendor at area farmers markets as far north as Hamilton County, but until recently a big part of her business came from handling floral arrangements for large gatherings.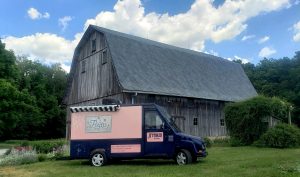 "I did love the (Indianapolis) shop, but it just didn't make business sense in this climate," Parker said.
The South Meridian Street shop, which occupies 2,000 square feet, opened in 2008. The lease for that space expires at the end of the month, which is another reason Parker decided to close that shop now.
She said she intends to re-establish a presence of some sort in the Stadium Village neighborhood because she loves the neighborhood and wants to have a convenient spot to meet with clients once Indianapolis' tourism and events business gets back on track. But exactly where that location might be and when it might open is unknown.
"When will the crowds come back, and how will we be doing business in the future?" Parker said. "You can talk to any vendor that's in the events business and they're having to go to Plan B."
For JP Parker Flowers, part of that Plan B involves a newly acquired floral truck named Flora.
The truck will operate similar to a food truck, giving the business a mobile option for reaching customers. JP Parker Flowers could, for instance, use the truck as a pop-up retail location where customers could walk up and buy a bouquet. Or, a client might hire the truck to distribute flowers for a retail store's grand opening or other event.
"It's actually been a long-time dream of mine to have a flower truck" Parker said. "It's a very fun, trendy thing to do right now."
In other news this week:
— Fast-casual seafood chain Slapfish opens Monday at 345 Massachusetts Ave. The restaurant takes the space formerly occupied by Louie's Wine Dive, which closed in March.
Franchisees are long-time friends Mark Weghorst and Nick Smith. Weghorst opened the area's first Slapfish location in July 2019, inside the Broccoli Bill's grocery store that his father, Bill Weghorst, owns in Noblesville.
California-based Slapfish offers a mostly seafood-focused menu, with an emphasis on sustainably sourced fish. Menu items include fish tacos, burritos, grilled fish bowls and other items, including a children's menu. The chain is based in the Los Angeles suburb of Fountain Valley and has about 20 locations in several U.S. states, plus England.
— Fast-casual Indian restaurant Tandoor & Tikka has opened its third Indianapolis store, and its fourth overall, at 5650 W. 86th St. The restaurant's grand opening was June 26.
It opened in Indianapolis in June 2018 at 805 W. 10th St. near IUPUI, followed by a Castleton location in 2019. Tandoor & Tikka also has a location in Bloomington.
— The culinary establishment Studio C, 1051 E. 54th St., has discontinued its coffee service though it is continuing with its other lines of business. Local chef Greg Hardesty opened Studio C in 2019 as a place for a variety of food-oriented offerings based on market demand. The business' offerings include carry-out meals, private dining and a wine club.
— Peppy Grill opened June 19 at 910 W. 10th St. in The Avenue, a mixed-use development near the IUPUI campus. The restaurant is in the spot formerly occupied by Madd Greeks Mediterranean Grille, which closed in March after 3-1/2 years.
The new Peppy Grill is associated with the Peppy Grill at 1004 Virginia Ave. in Fountain Square—it is not affiliated with Burt's Peppy Grill at 3401 E. 10th St.
— The Fudge Kettle plans to open its first brick-and-mortar retail space early next month at 5530 E. U.S. 36 in the Prestwick Junction retail development in Avon. The 1,200-square-foot shop will offer both homemade candy and items from other makers, including Jelly Belly, Albanese, Chocolate Chocolate Chocolate and others. It will also sell an array of gift items.
Owner Andrea Snyder told IBJ that she started her business by making fudge at her home, and business growth led her to find a retail space.
Snyder grew up working at her grandparents' candy and gift shop in Brown County, and she said after 12 years working as a paralegal she decided to take the plunge and open her own shop. "I've had this dream for a long time and I'm finally chasing it," Snyder told IBJ.
— Indianapolis-based retail chain 21st Amendment Wine & Spirits is building a store at 6917 Bluff Road, just north of Southport Road on the city's south side. The store, which is targeting an opening by Thanksgiving, will replace the 21st Amendment store that had been just west of there. That location, on Southport Road west of Indiana 37, closed in January because the property will be affected by the I-69 project at that intersection.
Please enable JavaScript to view this content.