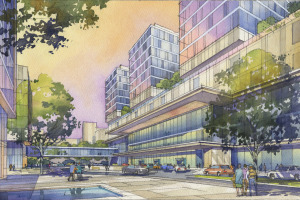 Getting around Indiana University Health's expanded new downtown medical campus is going to take a little getting used to. The hospital system wants to close a handful of streets on the eight blocks it plans to acquire south of the existing Methodist Hospital, according to a preliminary development plan filed with the city of Indianapolis.
The proposed 44-acre expansion features a large open campus with plenty of green space and "urban plazas."
"Tree-lined streets, plazas, open green space, site features, gateways, and pedestrian and bikeways will be incorporated throughout the development," according to the preliminary development plan, dated Oct. 7. "Open spaces will be approached with a managed landscape that contributes to the ecological health of the city."
To do that, the hospital system is going to have to close or privatize some roads and other public spaces.
IU Health has filed a petition for vacation of several streets, meaning it wants to close or privatize them and fold them into the new campus. Specifically, it wants to vacate the following rights of way, meaning they will no longer be public streets:
Senate Avenue from 13th Street to 16th Street, excluding 14th Street intersection
15th Street from Capitol Avenue to Lafayette Street
Anderson Street from Brooker St. to Lafayette Street
Brooker Street from Anderson St. to 15th Street
Brooker Street from 13th St. to Cora Street
Lafayette Street from 14th St. to 15th Street
Cora Street from Capitol Avenue to Brooker Street.
Most of those streets would be removed, with the exception of Senate Avenue, a major north-south artery, which would be vacated as a public street, but would not be removed.
On the flip side of the coin, IU Health is proposing the return to the city several privately held streets in order to improve traffic flow around the expanded campus.
Specifically, it is proposing that Missouri Street, accessed from either 13th Street or 14th Street, will act as a ring road around the medical campus "to facilitate traffic to and from downtown." That would include extending 13th Street west from its current terminus at Lafayette Street.
IU Health announced it August it plans to expand its footprint by eight blocks and build a new $1.6 billion hospital just south of its century-old Methodist Hospital. The campus also will house portions of the IU School of Medicine, which will move from its current location on the IUPUI campus.
The expansion will extend the current campus from 16th Street south to 12th Street and from Capitol Avenue west to Interstate 65. IU Health owns some of the property and has been buying adjoining land in recent months. Some of the land is occupied by an assortment of office and industrial buildings.
Operations at Methodist Hospital and IU Health University Hospital, which is 1.5 miles southwest on the IUPUI campus, will be consolidated into the new hospital when it opens in 2026. The future use of the two current hospitals is still under evaluation.
IU Health has said that combining operations of the two hospitals will eliminate "costly duplication" of medical services and help provide more accessible, cost-efficient care. The oldest portion of Methodist Hospital dates to 1908, while University Hospital opened in 1970.
The new hospital and campus will take a new name, which will be announced in the future. The Methodist and University names will be "memorialized" in the new campus.
IU Health is also requesting a Central Business District special development classification that would provide zoning flexibility to develop the various uses for the expansion.
The land is currently zoned for five uses, including residential and industrial. IU Health has said it will work with city and state officials, neighborhood groups and other stakeholders on the design, specifications, uses and development standards for the site.
IU Health has provided several renderings of the hospital and campus, but called the designs "preliminary blueprints" that could be adjusted in coming months. The design calls for the hospital to have three glass-fronted towers of about 10 stories with a rooftop helipad and enclosed walkways to nearby buildings.
The multitower design can hold up to 576 private patient beds and "expansive" outpatient care areas, IU Health said.
Parts of the existing Methodist complex will be connected to the new hospital via a walkway and could hold additional beds, exam rooms and other clinical space.
Please enable JavaScript to view this content.