Indianapolis-based Hc1.com, whose software helps health care organizations interpret data to personalize care and control costs, has reached a breakthrough deal with lab-testing giant Quest Diagnostics.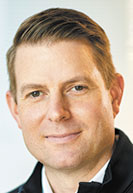 The partnership announced this month will use Hc1's software that employs machine learning to prevent health systems from ordering too many or too few tests, a mistake that can lead to missed diagnoses and costly procedures.
Secaucus, New-Jersey-based Quest performs testing for thousands of U.S. health systems. Many of them have attempted to study patterns in test utilization but have hit various roadblocks, including the need to manually upload certain information, an inability to pull data from disparate enterprise systems and an inability to provide real-time test-ordering guidance.
Even before striking the Quest partnership, Hc1's software had amassed more than 8 billion lab results from more than 100 million unique patients. Another 40 million test results are flowing in daily.
"The more of this data we process, the smarter these algorithms get," said Brad Bostic, Hc1's founder and CEO.
He said that wealth of data creates a daunting barrier to other companies that might want to challenge Hc1.
"We got this early, first-mover advantage," he said. "This created this massive distance between what we are doing and anyone else can try to do."
Hc1 has been a growth tear fueled by its focus on lab testing and on prescription utilization. The firm, founded in 2011, is growing revenue at more than 50 percent a year, Bostic said, though he wouldn't provide an annual revenue number beyond saying it is more than $10 million.
The company, which has about 100 employees, has raised a total of $55 million in venture capital.
Quest about a year ago contacted Hc1 about possibly partnering on what it is calling its Quest Lab Stewardship program. After analyzing Hc1 expertise, software and security protocols, Quest opted to move forward on a deal.
Ordering lab tests is health care's highest-volume activity, Quest noted in a press release. Though lab testing accounts for only 2% to 3% of health care costs, missed prevention opportunities contribute to the $765 billion that the health care system wastes annually, according to the National Academy of Medicine.
"Lab stewardship is about more than lab testing and lowering costs of over-testing," Dr. Lee Hillborne, Quest's senior medical director, said in a statement. "It's really about helping health systems to use lab services efficiently to deliver appropriate care while preventing the downstream consequences of unnecessary, costly procedures."
Quest said Hc1's software ingests and organizes lab data while overcoming a variety of obstacles, such as confusion over identical tests that go by different names.
Please enable JavaScript to view this content.