There are worse problems to have in theater than an audience so enthusiastic about what they are seeing and hearing that their hooting and hollering dampens the emotional impact of the end of your show. But that's what happened when I caught Bobdirex production of "Hair," playing at the Athenaeum through July 20.
Yes, there are moments when this "Hair" knocks the vocals out of the park—in Craig Underwood's joyful "My Conviction," in Claire Wilcher's "Easy to Be Hard," and in the Tribe's "Three-Five-Zero-Zero" and "The Flesh Failures," to name just a few. Its onstage band—led by Trevor Fanning (doing double duty as both music/vocal director)—is terrific and I was lucky enough to see the show on a night when music from the Athenaeum's biergarten wasn't competing with the production.
But "Hair" is more than a concert. And director Bob Harbin's cast and crew brought more than just great sound. One of the challenges of the show is that, for maximum effect, personalities have to pop on stage. The actors aren't given pages of script to work with to create their characters. Yet rather than being background players, I felt a familiarity even with some of the nameless members of the tribe (among them Arianne Villareal, Julie O'Mara, and Tawj Monroe).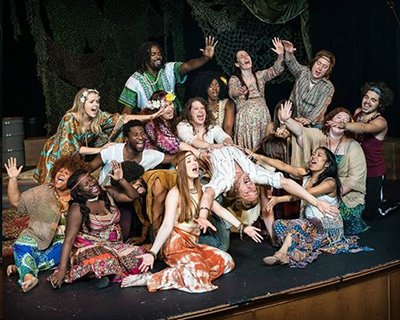 All photos are by Rick Randjelovic
I also was pleased to see that Harbin didn't try to fit his lead actors into pre-existing molds. For instance, Lincoln Slentz's Berger came across less pushy and more stoner than I've seen him before. That partly stems from Harbin's choice to, for the most part, keep his tribe out of the audience. But it also comes from allowing Slentz to bring his own interpretation of Berger to the table.
By not putting Berger in the driver's seat, the tribe seemed more a gang of approximate equals, leaving room for the wonderfully present Tyler Ostrander (as Woof) and the playful Rashida Bonds (as Dionne) to have more time at the core of the action than is usually the case.  Wilcher's Sheila doesn't confine her "Easy to Be Hard" sadness to her solo—she seems to clearly know the flaws of her friends and knows what forgiving Berger's harshness takes from her. Anthony Snitker (previously in Civic's "Into the Woods") leaves more of a mark here than he has previously—I wish I could say we'd see more of him here, but after this show he's off to Los Angeles. And, in the loveliest few minutes of the show, I believed wholeheartedly that Audrey Brinkley's Crissy met a boy called Frank Mills in front of the Waverly.
(And, yes, there is nudity. For my thoughts on that, visit my earlier blog post here.)
Please enable JavaScript to view this content.