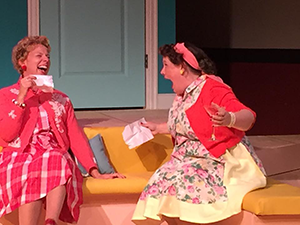 Photo by Zach Rosing
In some sense, "The Merry Wives of Windsor" is the "Star Wars Holiday Special" of Shakespeare plays. It gets little respect. Purists try to pretend it never existed. Both diminish their beloved characters. And public presentations are rare.
Unlike the "Star Wars" embarrassment, though, there's irony-free pleasures to be had from "Merry Wives"—some of which are mined in Wisdom Tooth Theatre Project's production at the Indy Fringe Basile Theatre (through May 28).
Any theater taking on "Merry Wives" has a core decision to make: Treat it as under-appreciated Shakespeare and find ways to show why it's worth another look or treat it as a lesser work that, nonetheless, can provide a fun evening out.
Guided by director Bill Simmons, Wisdom Tooth has opted for the latter, transforming it into a giddy, I Love Lucy-ian romp with cocktail-sipping leads, bouncy music, a resort setting  and some serious text-trimming.
It's an approach that doesn't aim particularly high, but mostly works—especially for those unfamiliar with Shakespeare's Henry plays. Ignorance of the richness of Falstaff (Adam O. Crowe), one of Shakespeare's greatest creations, makes it easier to take his by-the-numbers role in "Merry Wives," where the complex, compelling knight and unofficial adviser to Henry is just a blowhard throwing a sexual Hail Mary pass to try to increase his odds of landing an encounter with at least one of the two title wives (Claire Wilcher and Amy Hayes).
Falstaff's obvious mistakes, beyond his lack of self-awareness, are sending the same note to both women and underestimating the extent of the ladies' friendship. And their capacity for revenge. Most of the play is made up of a trio of humiliations aimed at the Knight with a sub- but important plots involving a jealous husband and a daughter's efforts to marry the man she loves.
A playful set by Sara White is effective for most of the play, but doesn't allow for the transformational final forest scenes. Interpolating songs (including "Hernando's Hideaway" and "On the Atchison Topeka and the Santa Fe") feel like filler rather than enhancements, although they are playfully sung. There's a sincerity, though, to the climax—and an understanding that many of Shakespeare greater—and even his lesser—comedies end with a sweet, melancholy tone of forgiveness. I'll risk a spoiler here and say that the invitation offered to Falstaff in the end brought a bigger smile to me than any of the fun hijinks that it followed.
Please enable JavaScript to view this content.