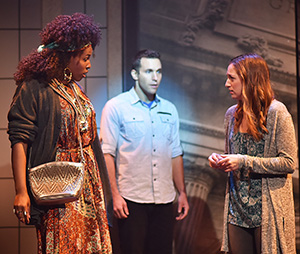 I've seen four plays this week, including one high-profile national tour and two on Broadway (stay tuned for reviews). But the only one I'd happily attend again and the one that didn't feel overtly manipulative was at Indy's own Beef & Boards Dinner Theatre.
Even more surprising: It was a production of a show that, when it toured through here a few seasons' back, proved nearly unwatchable.
But "Ghost" is back (through Nov. 18) and it has been tweaked by its writers after its previous Broadway and touring incarnation. Now it's more of a play-with-music with the focus on the emotions rather than the effects. And while it's far from a great musical, it manages in this production to find a balancing point between thriller and romance.
In case your memory of the blockbuster 1990s film is fuzzy, "Ghost" concerns Sam (Eddie Egan) and Molly (Andrea Laxton), a young couple torn apart when Sam is killed in what seems to be a random attempted robbery on the street. But there's more behind it and Molly falls in with alleged medium Oda Mae (Renee Jackson) who provides an unwitting conduit for communication between the earthly and spirit realms.
It proves to be a show that benefits from close-ups. "Ghost" doesn't shy away from Molly's grief, particularly in a heart-wrenching version of "With You" that proves that a live human being on stage opening her heart can be a greater special effect than all the bells and whistles you can hang on a production. And while the lighter stuff doesn't all land, when it misses it doesn't thud.
I still have some issues about how the story makes use of the "magical Negro" trope (a term coined by Spike Lee) in which, in this case, the show's two black characters exist primarily to help the white characters solve their problems. And even paired down, the dance numbers for the supporting characters don't feel essential—although the vaudeville turn by a ghost in limbo provides a needed breath of fresh air.
But by keeping the emotions grounded in reality, Beef & Boards finds life in this "Ghost." And the toned down special effects work just fine.
Please enable JavaScript to view this content.