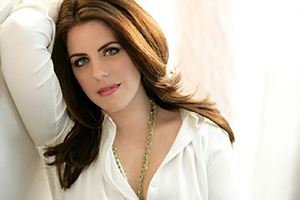 Effective and entertaining opera isn't just about voice, although voice is obviously of paramount importance.
It's not just about the music, although a strong orchestra can help win over an otherwise lackluster production.
And it's not just about staging, although an inventive, thoughtful director and designers can make a good version great or can mean the difference between good-enough and yawner.
For years, I've been watching Indianapolis Opera struggle—sometimes successfully, sometimes not—with finding the balance of all of those elements. Each regime change in management has brought a slightly different vision as audiences have been led through different venues in an effort to find the right combination of repertoire, available talent, approach, and location.
 All of those elements come together positively in "La Traviata" (Nov. 17-19 at the Tarkington). 
IO's staging of Giuseppe Verdi's classic doesn't represent a bold step forward creatively for the company. It's not a production likely to elevate IO on the national cultural radar. What it is, though, is a solidly entertaining, well-sung production that does justice to one of the most produced pieces in the operatic repertoire.
Appropriately scaled to the Tarkington, "La Traviata" offers the intimacy that IO tried to find in productions at the Basile Opera Center while also allowing for effective scenic design that doesn't rely on projections (used to mixed benefit in past work). 
"La Traviata" tells the uncluttered story of the sickly courtesan Violetta, who sparks the interest of Alfredo. By the second act, they are safely—it seems—ensconced in his country house, but financial issues—and a demand by Giorgio, Alfredo's father, that Violetta renounce his son to avoid scandal—sour this brief bit of happiness.
The rest, of course, is tragedy—but a tragedy that echoes in interesting ways today as we wrestle culturally with issues of forgiveness, reputation and past indiscretions. IO's production doesn't accentuate these, instead relying on the material to speak for itself.
The opera has only three characters of any consequence and each here is well cast, although Christopher Burchett is a bit young to be fathering Gregory Turay's Alfredo. Soprano Emily Birsan captures both Violetta's pain and passion, culminating in a final "Oh, joy" moment that's not just beautiful sung, but beautifully acted.
Of course, it's not easy pulling off an effective dramatic performance while also singing with such definition and strength throughout. In a world of supertitles, opera has increased its acting demands on its singers in works built for "park and bark" performances. Often, here and in other classic operas, an emotion needs to be held for an unnatural length of time, which can lead to onstage awkwardness if the performer isn't fully committed to the visual as well as the vocal. Birsan, Turay, and Burchett provide exemplary examples of what now is required of well-rounded operatic performances.
It was a joy to watch—and hear—them. 
Please enable JavaScript to view this content.