The signs are up and construction has kicked into overdrive as Goldfish Swim School races to open its first Indiana location at Merchants Square in Carmel.
Founded in Michigan, Goldfish specializes in teaching children to swim. A custom 4-foot-deep pool (kept at a comfortable 90 degrees) occupies most of the 8,000-square-foot facility, which also includes a dozen cabana-like private changing rooms, a snack bar, a pro shop and a blow-dry bar for post-lesson coiffing. Startup costs were about $1 million.
Classes are expected to begin April 16.
Goldfish uses a membership-based model, charging a monthly fee for what it calls "perpetual swim lessons." Franchise co-owner Katie Lee says that approach allows children to learn at their own pace.
"They move through the classes as their skills improve," said Lee, who also operates locations in suburban Detroit.
Children attend 30-minute lessons weekly, and parents are encouraged to take advantage of so-called "Family Swims" to promote practice. Free hour-long family sessions are scheduled Mondays-Thursdays, and a 90-minute Friday evening session will cost $5 per person or $15 for the whole family.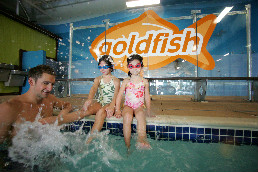 Goldfish Swim School plans to open in Carmel's Merchants Square on April 16. (Photo courtesy of Goldfish Swim School)
Advanced students can participate in a recreational swim team designed to introduce them to competitive swimming.
"Swimming is a great equalizer," said General Manager Tom Anderson, a Carmel resident (and father of twin 2-year-old girls) who will oversee daily operations. "You don't have to be tall or muscular—everyone can learn how to float."
Memberships start at $78 per month for one child, with discounts for additional family members. The facility, located in a Merchants Square outlot west of a Marsh grocery store, can accommodate as many as 2,000 students a week, Lee said. She hopes to reach capacity within two years.
Goldfish will open with a staff of 20, she said. Established schools have about 50 employees, who go through at least 40 hours of training before diving into lessons.
Lee said demographics steered the franchise owners to Carmel for Goldfish's 10th location. The site between Zionsville and FIshers should be convenient for more than 20,000 children 12 and younger who need swim lessons, she said.
IBJ reported in 2011 that more than 145,000 people live within a five-mile radius of Merchants Square, and the average household income is more than $112,000. Even so, the retail center has struggled to keep tenants.
 
The idea of a dedicated swim school has proven successful elsewhere, Lee said, and she's confident that it will catch on here, too.
What do you think about the concept?
Please enable JavaScript to view this content.