Carmel City Council is scheduled to weigh in Monday on plans for an upscale Drury Plaza Hotel slated for Meridian and 96th streets, just south of Interstate 465.
St. Louis-based Drury Hotels is proposing to build a 10-story, 304-room hotel and stand-alone restaurant on undeveloped property northeast of the intersection, backing up to Parkwood Crossing office park.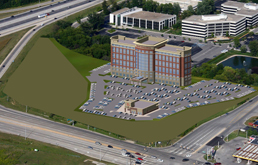 Construction of the Drury Plaza Hotel could begin this spring. (Rendering courtesy of Drury Development Corp.)
The 6.4-acre site is what will remain after the Indiana Department of Transportation takes about 5 acres for interchange improvements at Meridian and I-465.
The Carmel Clay Plan Commission voted unanimously late last year to forward the Drury's rezoning request to City Council with a positive recommendation. Councilor Kevin "Woody" Rider, who also serves on the plan commission, praised the project.
"I could not be happier, as a fiscal officer of the city," he said during the commission's Dec. 17 meeting. "We're getting what I think is a gem on a piece of property that is going to soon be flanked by two flyover ramps on 465."
A vote was scheduled for the council's Jan. 6 meeting, which was canceled because of inclement weather. If the project is approved, Drury plans to begin construction this spring.
As IBJ reported in October, Drury is planning a hotel of at least 160,000 square feet and a 5,000-square-foot or larger restaurant. A minimum of 380 parking spaces would be provided, along with bicycle parking.
The family-owned hotel chain operates six other upscale Drury Plaza Hotels in the Midwest and Texas. All told, Drury has 130 hotels in 20 states, including two in Indianapolis: a Drury Inn on Michigan Road and a Drury Inn & Suites on Shadeland Avenue.
Please enable JavaScript to view this content.