I-Town Church is negotiating to purchase a 38-acre parcel at 136th Street and Brooks School Road after fielding stiff opposition to plans to relocate its Fishers-based congregation to property a mile to the south, currently in use by a golf course.
"I don't think anyone wants to create controversy," said Richard Block, a member of I-Town's building committee. "So, if that helps avoid that and really ultimately allows for the church to build, then I think people are probably pleased about that."
I-Town has abandoned its former plans for buying 27 acres from Gray Eagle Golf Course on the southeast corner of 126th Street and Brooks School Road. The land included Gray Eagle's driving range, clubhouse, practice greens and two retention ponds.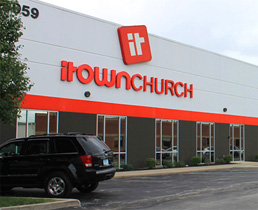 I-Town's Fishers congregation currently worships in a commercial development at 126th Street and Cumberland Road. (IBJ Photo/Carley Lanich)
Nearby residents and at least one member of the Fishers City Council voiced concerns with several aspects of the I-Town project, including increased traffic, development of land they'd prefer stay green space, and the potential for hurting the viability of the golf course.
"Certainly, the decision to seek an alternative site was based upon feedback," Block said. "No one in the church was looking to make enemies or be a problem in the community."
I-Town currently is in negotiations with Heartland Industries owner Wayne Olson to purchase his 38-acre-plot on the southwest corner of 136th Street and Brooks School Road.
Olson, who operates a food safety research farm on the property, said I-Town approached him about a week ago, after public tension surrounding the I-Town project increased.
Olson and Block both declined to comment on how much I-Town has offered for the property.
"We are talking and we believe in what the I-Town message is," Olson said. "We are hoping that they move forward with a location somewhere in the city, and that may possibly be here."
I-Town, founded in 2010, currently leases its existing Fishers church location at 126th and Cumberland Road in a small commercial development. It also has locations in Carmel and the Castleton area.
Block said that although additional building permits and developmental approvals would be needed for the 136th Street site, the project would remain similar to its original proposal with parking, a new sanctuary and other amenities.
With only one residential development adjacent to the Heartland Industries farm, Block said he is hopeful I-Town's new plans will bring less resistance and the support of the city.
I-Town is seeking approval to lift zoning requirements for the Heartland property, which would allow construction of the church. That issue will be addressed at a special Fishers City Council meeting on June 28.
I-Town had been scheduled to discuss the Gray Eagle project at a June 19 council meeting but requested a continuance. 
Block, who is also a member of both the Fishers City Council and Fishers Plan Commission, has recused himself from all I-Town-related proposals and said he will continue to do so in the future.
Please enable JavaScript to view this content.