The Jonathan Byrd's Fieldhouse at Grand Park in Westfield is expanding into a sport that doesn't necessarily entail breaking a sweat.
The 87,000-square-foot facility features eight courts that are primarily used for basketball and volleyball, but 2,600 square feet of the building has recently been transformed into an e-sports center called Game On.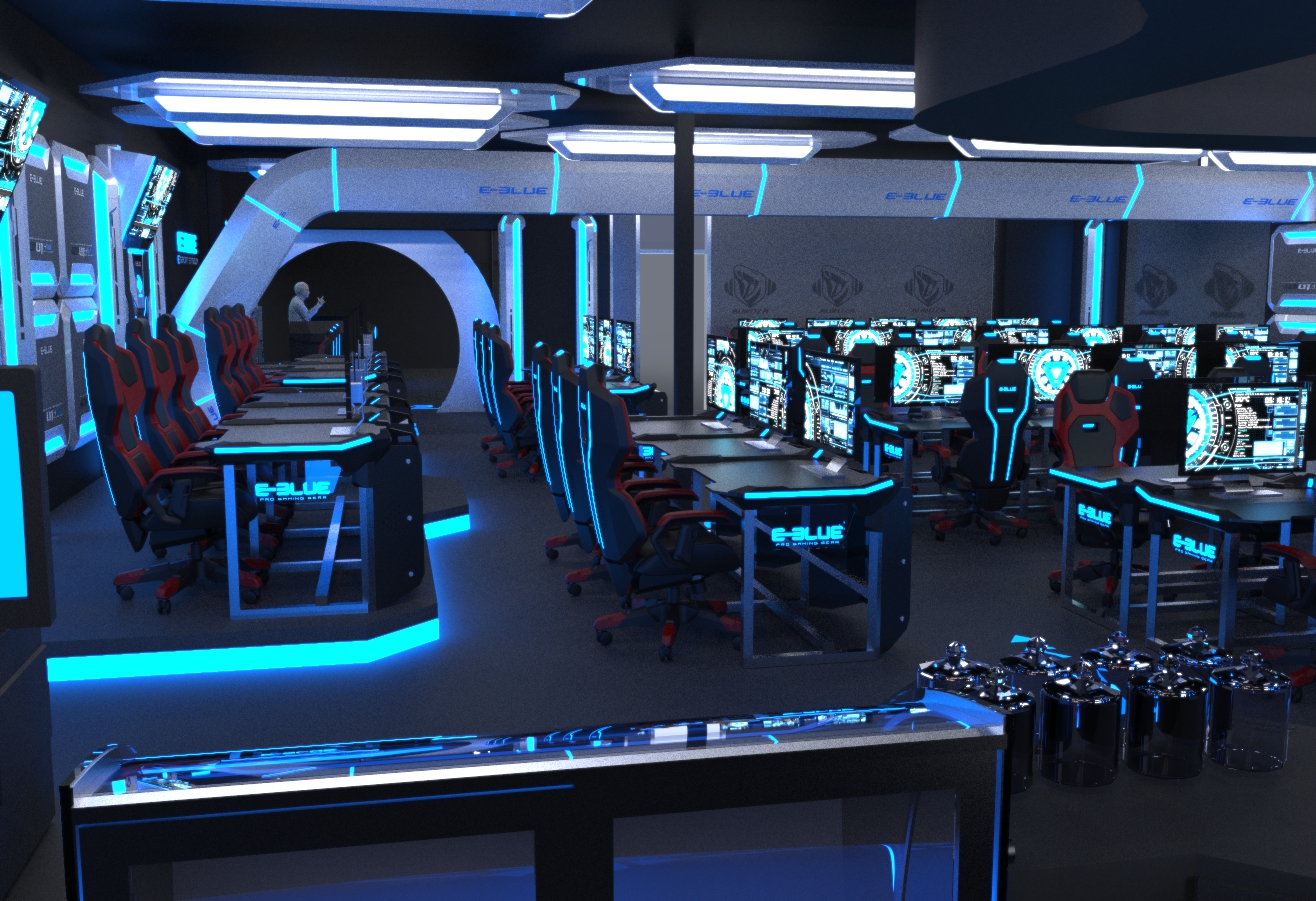 The gaming center, which is located in space where Jonathan Byrd's previously operated a restaurant, features 78 stations for a wide range of e-sports that can be played on computers or devices like Xbox, PlayStation and Wii. (See rendering to the right.)
The term e-sports, or electronic sports, refers to video and computer games played in organized competition, commonly in leagues and tournaments. E-sports often include spectators, both live and virtual.
The fieldhouse gaming center is designed for kids of all ages and experience levels. Memberships and hourly play will be available, along with training camps, workshops and team opportunities.
"There's definitely a demographic that we're reaching that would have never come in," said Andy Card, co-CEO and co-president of fieldhouse development company Klipsch-Card Athletic Facilities LLC. "We actually consider these kids to be athletes."
Card said the opportunity for the gaming center arose after catering company Jonathan Byrd's pulled back from its big role at Grand Park earlier this year. That included ending food service at the Fieldhouse in February.
Food is still provided at the fieldhouse (the kitchen has not been removed), but operations are managed in-house.
Card said it cost about $600,000 to convert the space. Construction of Game On started in May, and the grand opening—which is open to the public for free play—is scheduled for 2:30 p.m. to 6 p.m. on Sept. 16.
To operate the center, Card has partnered with Rick and Cara Barretto, who got involved in e-sports about six years ago when they purchased the Illinois-based company The LAN Network, which trains gamers and broadcasts tournaments online.
Rick Barretto has been involved with gaming industry much longer than that, however. In 2000, he launched a company called DreamAuthentics that creates arcade cabinets that allows users to play new and old games all from one device. He also owns iRecord, which offers recording software used by law enforcement.
Since diving into the e-sports world, the couple said they've been impressed with the massive growth in the industry. According to a market report from e-sports company Newzoo, industry revenue is expected to grow to $696 million this year—up more than 40 percent from last year—and could hit $1.5 billion by 2020. (Industry revenue includes media rights, advertising, sponsorship, merchandise and game publisher fees.)
Just last month, an e-sports tournament in Seattle had a total prize pool of $24 million, with the winning team taking home $10 million. Next year, 17 NBA teams—including the Indiana Pacers—are launching a NBA 2K e-sports league. 
Card said he sees the potential for tournaments at the fieldhouse. In addition to the 78 stations already there, they could put stations on the basketball courts and use the entire facility, if necessary.
"We have the opportunity to be on the cutting edge," Card said.
Rick Barretto described the center in the fieldhouse as "Disney," because it's much bigger than what's currently available in small internet cafes or strip malls.
"It's a destination," Barretto said. "We're going to have these kids coming not only from Westfield, Indianapolis, the north side, but all over Indiana."
And there's one thing that will set it apart from typical gaming centers: Physical exercise is being incorporated into the Game On workshops, training programs, camps and leagues. In addition to playing video games, kids will also play on the basketball and volleyball courts in the fieldhouse.
"A lot of parents that have gamers in their family don't like the fact that their kids stay inside and they don't get exercise," Card said.
He said they are working with St. Vincent Sports Performance, which also has a presence in the fieldhouse, to create a physical exercise training program that would complement the e-sports training.
"If you talk to the pros, when they're not playing, they're doing yoga, they're shooting basketballs, they're lifting weights, because you cannot just have 100 percent screen time," Cara Barretto said.
Card is also planning to incorporate Game On into the $18.4 million Noblesville fieldhouse he's currently developing.
He said the Noblesville location will have a 200-seat gaming arena that will take up about 5,000 square feet. The facility will also have five hard-surface courts for basketball, volleyball, futsal and pickleball; two turf fields for baseball, softball, football, soccer and lacrosse; a batting and pitching tunnel; and a sports-performance facility.
That project, which broke ground in July, is scheduled to open in August 2018.
Please enable JavaScript to view this content.