The city of Westfield is planning two high-profile infrastructure projects that should be noticeable this spring.
Mayor Andy Cook announced during his State of the City address on Thursday that a bridge would be constructed for the Monon Trail over State Road 32, and a gateway feature would be installed along U.S. 31.
The bridge over S.R. 32 and Tournament Trail is expected to cost $5.5 million, but the city has received federal funding, so the local cost will only be $2.2 million.
The project is expected to begin in August and take a year to complete.
As for the U.S. 31 gateway, the design, location and price have changed from what city officials initially discussed years ago.
The new design, revealed during Cook's speech, calls for a 40-foot-tall, steel column in the median of U.S. 31 south of the 146th Street interchange, blazoned with the word "Westfield." The 146th Street bridge will also have four interchangeable squares along its apron that will be lit at night.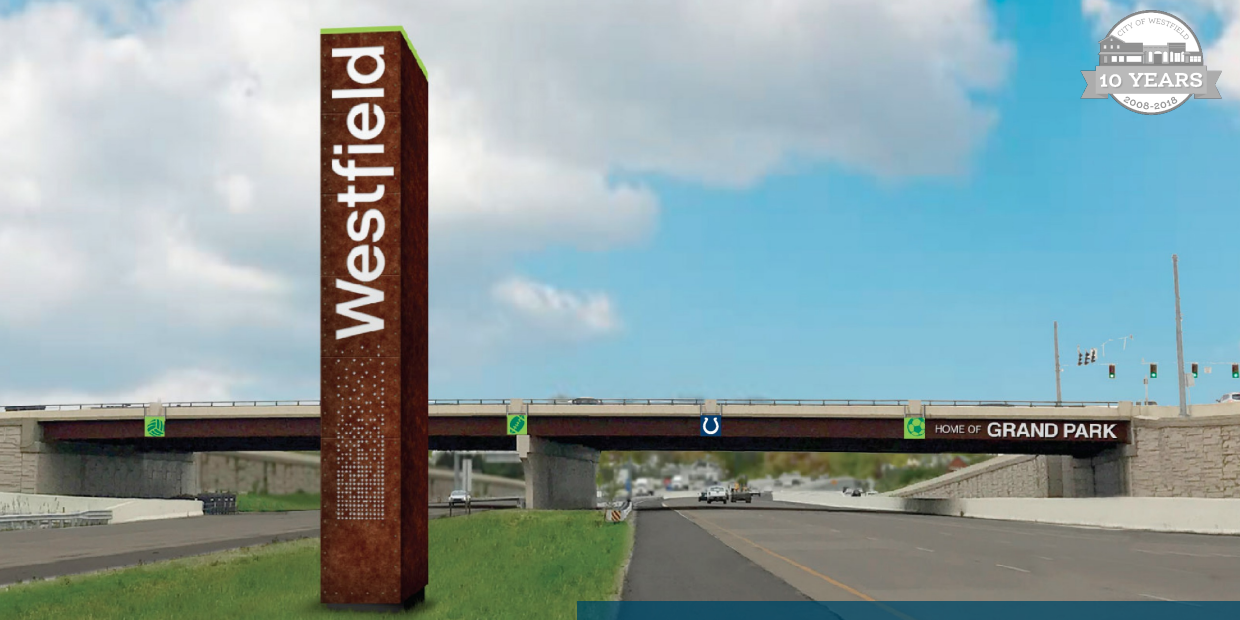 The design Cook shared (see image to the right) shows a volleyball, football, Indianapolis Colts logo and soccer ball along with the words "Home of Grand Park."
The gateway feature is expected to cost $270,000. It should be completed by mid-summer.
"You'll definitely know that you're approaching Westfield," Cook said.
It's a big change from what city officials had discussed years ago—100-foot metal-mesh towers at U.S. 31 and S.R. 32. That project had been estimated to cost between $2.4 million and $3.1 million.
The Westfield City Council tabled those plans in summer 2014, and Westfield spokeswoman Erin Murphy confirmed to IBJ on Friday that the city will not move forward with that project.
Please enable JavaScript to view this content.