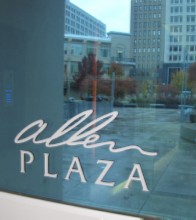 Allen Commercial Group is offering for sale the first of 30 condos in its flagship nine-story Allen Plaza building
along Pennsylvania Street downtown. The $14-million project includes five floors of condos, three floors of office space and
Scotty's Brewhouse on the ground floor. And the firm, which has moved its headquarters to the building's second floor, is
working on a phasing plan for its much-larger Penn Centre proposal. J. Greg Allen proposed the $135-million mix of hotels,
condos and restaurants in 2007 for a stretch of surface parking lots across from Conseco Fieldhouse, but he had to put the
project on hold when credit markets froze. Allen still owns the land and hopes to finish half of the project in time for the
Super Bowl in 2012. Read more about Allen's downtown plans here.
Please enable JavaScript to view this content.