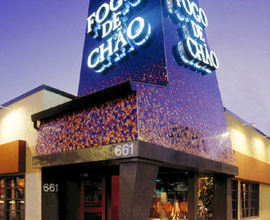 A few nuggets to break up an otherwise slow day for real estate news:


All-You-Can-Eat Meat: The deal is done to bring the upscale Brazilian Steakhouse Fogo de Chão (fo-go dèe shoun, or fire on the ground) to the former Zipper Building downtown. The chain has 10 locations in the U.S. (Chicago restaurant shown here) and five in Brazil. Diners use a disk with one side green and the other red to show whether they want servers to continue bringing skewers of meat.


Open Road: The owner of Indy Saab plans to open a 5,000-square-foot BMW motorcycle repair shop at 2416 W. 16th St., near Lafayette Road. The new facility will be next door to the Indy Saab dealership.


Noodle News: It's official: You'll still be able to get noodles near IUPUI. Noodles & Co. has filed plans to take the former Nothing But Noodles space at 903 Indiana Ave. This confirms the fine reporting of a couple of blog readers. (Thanks, folks.)


Tipping the Scales: Indianapolis Scale Company has filed plans to build a new, 12,000-square-foot headquarters in Camby's Heartland Crossing. The company plans to move from its current home at 7302 Kentucky Ave.
Please enable JavaScript to view this content.