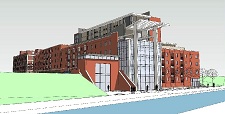 A proposal more than a year in the works for an apartment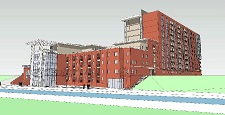 tower along the Central Canal could be nearing a groundbreaking.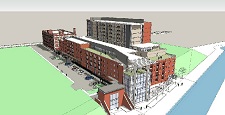 Valparaiso-based Investment Property Advisors is scheduled to make its pitch for the project to the Metropolitan Development Commission on Wednesday (April 18). In a bid to win support from planners and neighbors, the developers agreed to reduce the tower portion of the project from 26 stories to 10, and the total number of apartment units from 485 to 293. The project also calls for 236 parking spaces, down from 434, and 10,800 square feet of office or retail space, double the space originally proposed. Investment Property Advisors also agreed to a design with less stucco (EIFS) and more brick, along with a larger green roof than the original proposal. The project would be built on two adjoining parcels along Ninth Street between Senate Avenue and the Central Canal. The developers hope to begin construction in the fall, which would allow the first residents to move in by summer 2014. The apartments would be marketed to students. The architect is Ratio.
Here are a few of our previous stories on the project:
Developer plans 26-story tower along canal
Developer scales back plans for tower along Central Canal
Please enable JavaScript to view this content.