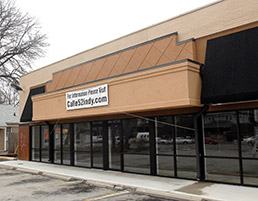 The owner of the Aristocrat Pub & Restaurant at 52nd Street and College Avenue took his fight against a parking variance for the proposed Calle 52 restaurant across the street all the way to the Indiana Supreme Court, and lost. The court declined on May 3 to hear a challenge to Marion County Superior Court and Indiana Court of Appeals decisions in favor of the city's Board of Zoning Appeals. Aristocrat owner Rick Rising-Moore sued the BZA in November 2010 over its decision a month earlier to approve a parking plan for Calle 52 that provided for 21 on-site spaces, fewer than the 56 required under code. The developers won approval after submitting a valet plan using off-site spaces and making adjustments to the site plan to ease parking concerns.
In an ironic twist, Rising-Moore is now seeking a parking variance of his own as he rebuilds his restaurant after a fire in August. His own establishment was operating outside the zoning codes he pushed the BZA to enforce against Calle 52. A few of the variances Rising-Moore is seeking from the BZA would allow for: deficient parking for his restaurant operation; landscaping in the right of way; outdoor seating; indoor live entertainment within 100 feet of a protected district; an existing freestanding sign; and a replacement awning and canopy. In his suit against the BZA, he had argued additional cars for Calle 52 would hurt his business and others in the area, and create a public safety hazard. Rising-Moore did not return a phone message Tuesday morning.
Meantime, Rising-Moore is not giving up his fight against Calle 52. He's suing the Indiana Alcohol & Tobacco Commission over its approval of a liquor license for the Latin restaurant, which would take over a long-vacant former Movie Gallery store. If the case doesn't go his way, the developers of Calle 52 expect he will again appeal all the way to the Indiana Supreme Court. The owners of Calle 52 are Nicole Harlan-Oprisu and Tim Oprisu (who also own Old Pro's Table), Bill and Nancy Ficca and Jamie Browning (the Ficcas and Browning also own Usual Suspects in Broad Ripple). Browning said the group is not giving up and that the building owner, Bill Stoops, is willing to wait to ensure the best use for the property. The plans call for 133 indoor seats and 32 seats on a patio, and a menu featuring ceviche, queso fundido, carne asada and pastel tres leche. An earlier blog post (with 99 comments at last check) is here.
Please enable JavaScript to view this content.