Here's a wide-ranging roundup of new food and drink venues across the city. We'll start in the growing Fletcher Place neighborhood between the Mile Square and Fountain Square, which has a new microbrewery:
• Chilly Water Brewing Co. opened June 27 at 719 Virginia Ave., Suite 105, in The Hinge, a mixed-use development with 56 market-rate apartments along with 12,000 square feet of commercial space mostly occupied by Rook restaurant and The Bureau.
The microbrewery, operated by Skip DuVall and his wife, McKee, occupies about 2,800 square feet and seats 50 inside and 30 outside. It features two regular beers, a pilsner and a pale ale, in addition to seasonal choices.
Local beer connoisseurs might remember DuVall from his days as the head brewer at the former Alcatraz Brewing Co. downtown before helping open Fountain Square Brewing Co.
In keeping with the beer theme:
• The District Tap is set to open in mid-August at 3720 E. 82nd St., last occupied by Brewstone Beer Co. It closed in August and was the lastest casualty in a string of failures at the snakebitten site. The District Tap is led by Kurt Cohen, owner of the Arni's Restaurant pizza chain.
At the CityWay development downtown: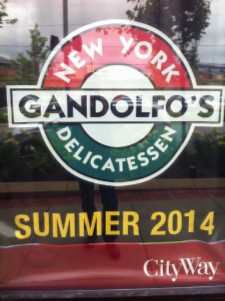 • Gandolfo's New York Delicatessen is taking the space at 309 S. Delaware St. in CityWay vacated by Orange Leaf Frozen Yogurt.
Gandolfo's should open this summer. It also has plans for a location in Noblesville, according to its website. Other stores are in Greenwood and Bloomington. The deli started in 1989 in Salt Lake City and now has nearly 30 locations in 13 states.
Sandwiches on the menu include the Rockefeller Reuben, Wheat Hampton, King of Queens and Carnegie Hall.
• Yolk is set to open by July 15. The upscale breakfast eatery will occupy 4,410 square feet on South Street, in the Buckingham Cos. mixed-use development.
Owner Taki Kastanis opened his first Yolk in Chicago in 2006 and now has four locations in the Windy City. The CityWay location will be Yolk's first outside of Chicago.
Near Mass Ave.:
• Union 50 is open at 620 N. East St. It's operated by Mike Cunningham, who owns Mass Ave eateries Bru and Mesh. IBJ first reported on Cunningham's plan in March 2013.
The restaurant takes its name from the history of the building, which was constructed in 1950 and served several years as a union hall. The menu is heavy on "chef-driven American cuisine."
In Broad Ripple:
• Sweeties Gourmet Treats at 1081 Broad Ripple Ave. is set to move by the end of the month to the former Parcha Sweets location at 2101 Broad Ripple Ave. near Keystone Avenue. Sweeties makes cakes, cupcakes, pies and cobblers.
Outside Indianapolis:
• El Toro has taken the space at 1576 W. Oak St. in Zionsville formerly occupied by the Oobatz! pizzeria. The Champaign, Ill.-based Mexican restaurant has 10 locations in eastern Illinois, as well as one each in Cincinnati and Walton, Ky.
 
Please enable JavaScript to view this content.