• The Libertine Liquor Bar at 38 E. Washington St. is moving to Massachusetts Avenue, in the same building occupied by Pizzology.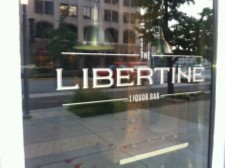 Chef and restaurateur Neal Brown owns both establishments, and opened the pizzeria at 608 Massachusetts Ave. in May. Brown didn't return phone calls seeking comment, but Brown tweeted after Property Lines published that the bar will remain open at its current location until Oct. 31. A state construction filing dated Aug. 26 shows Libertine will take nearly 1,600 square feet at the Pizzology Pizzeria & Pub location. Real estate sources say Libertine is relocating to the basement.
Brown opened Libertine in 2011. In 2013, it was named by Equire magazine as one of the "best bars in America."
• City Barbeque is scheduled to open at Fishers Marketplace, 9367 Ambleside Drive, on Oct. 11. The mixed-use project under construction at State Road 37 and 131st Street has attracted a range of future culinary tenants, including Chicago-based Aurelio's Pizza, chicken chain Zaxby's, Graeter's ice cream, Bagger Dave's Legendary Burger Tavern, Which Wich, Popeyes Louisiana Kitchen and Taco Bell.
• Walmart Neighborhood Market is set to open Sept. 10 at 900 W. Main St. in Plainfield. The market is the sixth in the Indianapolis area and follows the store at 5555 Michigan Road, which opened last month.
• Burgerhaus is on schedule to open yet this summer at 335 W. Ninth St. in the 9 on Canal apartment project. The Valparaiso-based restaurant features a menu of burgers, salads and sandwiches, with burgers priced from $9 to $13. This will be its second location.
• Georgia Reese's Southern Table and Bar opened Sept. 2 in College Park on the northwest side. The restaurant, owned by former Indianapolis Colts linebacker Gary Brackett, serves authentic southern, soulful cuisine. It's located at 3454 W. 86th St. in 6,800 square feet of space formerly occupied by Outback Steakhouse.
In Broad Ripple:
• The Garden Table cafe and juice bar is opening at 908 E. Westfield Blvd. in the former Addendum building.
• Brenneman's Home Place is opening at 801 Broad Ripple Ave., at the corner of Broad Ripple and Carrollton avenues, in the former location of Za Pizzeria.
• The Runners Forum has moved into the space at 902 E. Westfield Blvd. formerly occupied by Chelsea's, which closed in May after 24 years at the location.  
• Bleecker Street at 6311 Guilford Ave. has closed following a court settlement reached Aug. 20 between the owner of the bar and his landlord. Bleecker Street's owner, Anies Alfayyad, had sued brothers Marc R. Fortney and Eric M. Fortney, charging racial discrimination. Terms of the settlement are not available.
Other closings:
• A2Z Cafe at 4705 E. 96th St. closed Aug. 31, but is set to reopen under new ownership, according to the restaurant's Facebook page. After 10 years, owners Ashraf and Zulma Boutros have handed over the reins to Tom and Gina Rosenow, who plan to reopen the restaurant with a new menu following a renovation.
• JT's Grille & Bar at 2210 E. 54th St., has closed.
• The Cinemark theater at 10455 E. Washington St. has closed.
 
Please enable JavaScript to view this content.