Another brewing operation looks to be coming downtown. But the main focus, similar to Sun King Brewing Co., will be distributing its suds instead of serving them, at least to start.
• Round Town Brewing Co. has filed plans to operate at 924 N. Pennsylvania St., in 11,000 square feet at the rear of the Arts Council of Indianapolis building, in warehouse space.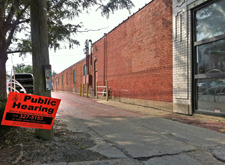 Round Town will feature a small tasting room and ultimately plans to offer pint service after keg and can distribution starts rolling.
Head brewer is Jerry Sutherlin, who will bring his skills from the downtown Rock Bottom Restaurant & Brewery, where he's the current brewmaster.
"I've got the Peyton Manning of brewers on our side," said Round Town co-owner Max Schenk. "He's very respected in the industry and has a nice following of subscribers at Rock Bottom."
Ownership in Round Town includes Keith Reilly, who operates O'Reilly's at 36 S. Pennsylvania St. downtown.
Round Town hopes to begin brewing on-site within the next six months. In the meantime, it may use a brewer on contract to get started.
Staying on the alcohol theme:
• Hotel Tango Whiskey opened Sept. 11 at 702 Virginia Ave. in Fletcher Place. Travis Barnes, a former Marine, operates the distillery along with his wife, Hillary, and three friends.
Barnes and his partners have invested $400,000 in the whiskey distillery and signed a five-year lease to occupy 3,500 square feet—split between production and a tasting room, lounge and retail space.
At Keystone at the Crossing:
• Sangiovese Ristorante, as expected, will reopen in the Ironworks apartment-and-retail development at the southwest corner of North Keystone Avenue and East 86th Street.
The upscale Italian eatery had long been rumored to be taking space at Ironworks after declining to renew its lease at 4110 E. 82nd St. in the Rivers Edge shopping center. Chicago staple Giordano's signed a lease in June for a pizzeria in Sangiovese's former location at Rivers Edge.
Sangiovese will take about 3,000 square feet on the south end of Ironworks and could reopen by January, owner Chris Evans said.
Downtown:
• H&R Block is moving into the space at 120 Monument Circle, Suite 103, vacated by Sprint on the ground level of WellPoint Inc.'s headquarters.
• Bernard Health, in turn, is taking space at 16 N. Pennsylvania St., formerly occupied by H&R Block. The Nashville, Tennessee-based health care consumer consulting firm has three locations in the Nashville area, one at 1300 E. 86th St. in Indianapolis, and one each in Lynhurst, Ohio, and Austin, Texas.
In the metro area:
• Fresh Thyme Farmers Market is opening two stores Sept. 25. The locations are 4225 E. 82nd St. in the Lake Clearwater area and 2342 W. 86th St. in space formerly occupied by Kahn's Fine Wines & Spirits near North Willow Farms. The specialty grocer has an existing store at 8750 U.S. 31, north of Greenwood Park Mall.
•Golf Galaxy is opening a store Sept. 19 at Castleton Square Pavilion, 5625 E. 86th St. Store hours are Monday through Saturday 10 a.m. to 9 p.m. and Sundays 10 a.m. to 6 p.m. PGA Tour player Bo Van Pelt will be at the store from 6 p.m. to 8 p.m. the day of the opening.
• Two Sisters Cakery & Bakery is closing its Cumberland location at 11530 E. Washington St. on Sept. 27 and moving east to Greenfield. The bakery will reopen Sept. 30 at 19 W. North St. near the intersection of U.S. 40 and State Road 9.
Laura Bowen helped start Two Sisters in 2006. She and her husband, Randy, are now the sole owners. The bakery specializes in cakes, cookies, brownies and cake pops.
A closing to report:
• Lenny's Sub Shop at 820 E 116th St., Suite 130, in Carmel, between College Avenue and Guilford Road, shut its doors Sept. 12.
 
Please enable JavaScript to view this content.