We'll kick this roundup off with a breakfast offering that's building an Indianapolis presence:
• Yolk is expanding its downtown presence by agreeing to take the street-level space in Salesforce Tower last occupied by Paradise Bakery & Cafe.
The Chicago-based breakfast chain known for its Red Velvet French Toast and Eggs Benedict hopes to open in May, Yolk owner Taki Kastanis told Property Lines.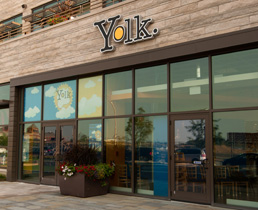 Yolk opened in CityWay in 2014. (IBJ file photo)
This would be Yolk's third Indianapolis outpost, after opening on East South Street at CityWay in 2014 and at Ironworks near Keystone at the Crossing in October.
"We always wanted a Yolk in, or near, Monument Circle," Kastanis said via email. "With the daytime population along with the number of events happening in the city, we feel that it is a great location. Obviously, with Salesforce moving in, we are excited to be in that specific property."
Yolk has a total of 10 locations, including five in Chicago and three in Texas.
Paradise, which had occupied the 4,700-square-foot downtown Indianapolis tower space since 2007, closed in June. Paradise is owned by St. Louis-based Panera Bread and has shut all of its Indianapolis locations.
Also downtown:
• Kingmakers' Indianapolis Board Game Library is set to open at 871 Massachusetts Ave. next to Yats.
The board game parlor has an existing location in Columbus, Ohio. Owners launched a Kickstarter campaign in hopes of raising $1,500 to help finance Indianapolis startup costs. As of Jan. 25, 40 donors had pledged $2,210.
Elsewhere:
• Craft Street Restaurant & Bar is open at 8487 Union Chapel Road, No. 560, in Fashion Mall Commons. Geist resident Daryl Randall, a co-owner of the Indiana Ballet Conservatory in Carmel, is the owner of the restaurant.
Craft Street features eclectic American cuisine, with a menu that offers a twist on traditional comfort foods.
• Indianapolis-based Noble Roman's Inc. plans to debut its new restaurant concept in Westfield on Jan. 31.
Noble Roman's Craft Pizza & Pub will open at 17409 Wheeler Road in the Monon Marketplace development near the U.S. 31 and State Road 32 interchange.
The company announced plans for the pizzeria-pub concept in the fall, and the 4,200-square-foot, 140-seat Westfield location will be the first. See North of 96th for more details.
• Joella's Hot Chicken is set to open Jan. 26 at 4715 E. 96th St., following a delay that pushed the launch from Dec. 16. The Louisville, Kentucky-based restaurant chain is taking the building previously occupied by 96th Street Steakburgers, which closed in late June after a dozen years in business.
The eatery's menu items include fried chicken, macaroni and cheese, sweet-vinegar slaw, garlic fries, kale crunch salad, black-eyed-pea salad, banana pudding and fried Nutella poppers. The Indianapolis location is expected to include a full-service bar that will offer local craft beer.  
• Primanti Bros. opened Jan. 24 at 5221 Noggle Way on the south side, just north of County Line Road and west of Interstate 65, in the building las occupied by a Bagger Dave's Burger Tavern.
The Pittsburgh-based sandwich chain has existing locations at Circle Centre mall and at 13871 Cabela Parkway near Cabela's in Noblesville. Primanti is known for sandwiches featuring coleslaw and French fries.
• 18|8 Fine Men's Salon is set to open Feb. 5 at Clay Terrace in Carmel next to Whole Foods. The location, which will  be operated by local residents and sibling Dennis Funkhouser and Susan Hawkins, marks the Irvine, California-based company's first foray in Indiana.
• Miniature-golf chain Glowgolf has opened its second location at Circle Centre mall, in the second-floor space previously occupied by Abercrombie & Fitch. Glowgolf still occupies its fourth-floor space, according to its website.
• Noodles & Co. is set to open Jan. 30 at The Fashion Mall food court, not Jan. 16 as the chain indicated earlier in the month.
• In case you missed it: Dallas, Texas-based Main Event Entertainment hopes to open by the end of February in the building at 4016 E. 82nd St. last occupied by Latitude 360. Also at the Rivers Edge Shopping Center, a J Crew Mercantile store is opening next to Nordstrom Rack and in part of the space formerly occupied by Wild Birds Unlimited.
• Meijer plans to open in late spring a store each in McCordsville and Franklin. The Grand Rapids, Michigan-based retailer said it plans to hire a total of 600 workers between the two locations. Apply online at http://jobs.meijer.com/new-stores.
Please enable JavaScript to view this content.