With the Vue apartment project slated to open this summer, and the former Milano Inn property teed up for development, South College Avenue is quickly becoming downtown's next hot corridor.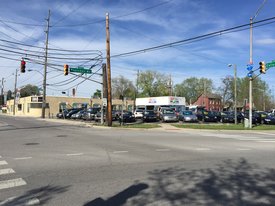 Now, the owner of the Bob's Auto Sales used car lot at the northeast corner of College and Fletcher avenues (see accompanying image) is jumping into the action by putting the property on the block.
The near-east side is in the midst of a development surge. The lot is about a third of an acre, but it's well located. South of the iconic Iaria's Italian Restaurant, it could anchor the north end of the Fletcher Place neighborhood's recent renaissance and tie into the momentum that's building on South College.
Ted McClure of McClure Commercial & Industrial Real Estate is listing the property for $650,000 and already has received two offers. They're lower than the asking price but likely can be negotiated, he said.
"We put it on the market three or four weeks ago, and right away we started getting calls," McClure said. "I don't anticipate it will be on the market long."
One of the two offers submitted so far is from Deylen Realty, a development firm that's quite active in the Fletcher Place and Fountain Square neighborhoods. Deylen developed The Pin co-working space, an extension of the Bureau and Hinge on Virginia Avenue, in the same building as Iaria's.
Deylen also developed the Slate apartment and retail project on Virginia Avenue in Fletcher Place and is building the similar Forte at 1202 S. Shelby St. in Fountain Square.
Principal Craig Von Deylen declined to discuss any plans his firm might have for the car lot but described it as a "great piece of ground."
"That's basically the heart of Fletcher Place," he said. "It's kind of hamstrung by College being a one-way. A two-way would basically turn that area around and make it a very desirable location."
The owner of the car lot is a local family that has operated it there since the mid-1970s, McClure said. They plan to relocate the business.
Please enable JavaScript to view this content.