We'll launch this roundup with downtown activity that includes the closing of a bar and restaurant on South Meridian Street and a couple of openings slated for May.
• Tilted Kilt Pub & Eatery at 141 S. Meridian St. closed May 1 "for remodeling," and the location is no longer managed by the Tilted Kilt team, according to a sign at the entrance.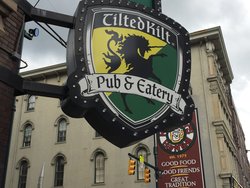 A spokeswoman for the company confirmed the closing.
The "breastaurant" took over the 7,500-square-foot downtown space formerly occupied by Jillian's in December 2011.
Based in Tempe, Ariz., Tilted Kilt is known for its scantily clad servers who wear mini-kilts with matching bras and midriff-baring tops. The menu is a tilted take on standard pub fare, anchored by "big arse" burgers. Draft beer and widescreen TVs abound.
The Tilted Kilt at 3850 DePauw Blvd. on the northwest side, near Michigan Road and Interstate 465, is operated by a different franchisee and remains open, according to an employee who answered the phone at the location.
The 14-year-old chain has about 50 locations nationwide.
• The Taco Shop is set to open May 9 at 43 E. 9th St. where Plow & Anchor operated until its closing in early January.
Plow & Anchor owners Craig Baker and Derek Means are converting the space to The Taco Shop, which will feature authentic street tacos, Pozole soup and salads.
Tacos are priced at $2.99 each, except for the vegetarian ($2.50). Salads are $6 and the soup $3 for an 8-ounce cup.
"We're looking to make it a very approachable lunchtime venue," Means said.
Baker and Means launched Plow & Anchor in The Ambassador apartment building in May 2014. But the pair ran into parking problems once Buckingham Cos. began building its apartment project on the surface lot directly north of the library. That, combined with an average dinner cost of $45 per plate, didn't help generate traffic, Means said.
Baker and Means also run Bent Rail Brewery, just south of Broad Ripple, and The Local Eatery and Pub in Westfield.
   
• Red the Steakhouse is set to open May 20 in the ground level of the four-story historic building downtown at 14 W. Maryland St. The 180-seat Indianapolis location will be the fourth for the Cleveland-based restaurant. Red was founded in 2005 by CEO Brad Friedlander and has two locations in Cleveland and another in Miami Beach, Florida.
Red will join Nada and Yard House on the one-block strip of Maryland, joining join an increasingly crowded downtown restaurant market packed with steakhouses.
• Peabody's Parlor at 873 Massachusetts Ave. will host a grand opening from 5 to 8 p.m. May 13. Owned and operated by Steffanie Peabody Boram, the 1,000-square-foot salon features five chairs, a color bar, and a shampoo and waxing nook.
In the Broad Ripple area:
• Greek's Pizzeria and Taproom is set to open May 11 at the northeast corner of 49th Street and College Avenue.
Greek's franchisee Josh Trisler will operate the pizzeria and has forged a relationship with Quaff On! Brewing Co. in Bloomington, the brewing arm of Nashville-based Big Woods.     
Quaff On beers will occupy at least 12 of the 19 taps at the Greek's, Trisler told Property Lines. Trisler also operates the Greek's Pizzeria at 120 E. Main St. in Carmel.
Muncie-based Greek's, founded in 1969, has 17 locations in Indiana, including locations in Fishers, Noblesville and Zionsville, and on the south and northeast sides of Indianapolis.
• 10-01 Food & Drink at 1001 Broad Ripple Ave. near Winthrop Avenue has closed and is set to be replaced by nightclub and restaurant Good Conduct Lounge & Miss Behavin'. It should open in June.
• HoiTea ToiTea cafe opened April 29 at 6283 N. College Ave. in the former CT Peppers space.
In Hamilton County:
• Chiba opened April 28 at 228 Park St. in Westfield. Owner Keith Dusko, who also operates Chiba in New Orleans, converted a vacant home into a sushi restaurant, bar and lounge with outside seating.
• Uplift Intimate Apparel is slated to open May 3 at 711 Veterans Way adjacent to Hubbard & Cravens in Carmel City Center. Uplift offers sports bras, nursing bras and high-quality European bras, along with professional fittings, in addition to a selection of intimate apparel.
 
Store hours are Monday through Saturday from 10 a.m. to 6 p.m.
Elsewhere:
• Houseworks has moved west, to 4905 E. 82nd St., in space formerly occupied by Ethan Allen, which moved to a new strip center at 4025 E. 82nd St., across from Rivers Edge shopping center. The 17,000-square-foot space is twice the size of Houseworks' old location.
• Meijer opened stores May 2 in Franklin and McCordsville. The store in Franklin is at 2390 N. Morton St. along U.S. 31 and the one in McCordsville is at 6939 W. Broadway, along U.S. 36.
Please enable JavaScript to view this content.