Leading off today's roundup we have a prominent space along bustling Massachusetts Avenue that should be filled by the end of the year.
• World of Beer has signed a lease to take 3,500 square feet on the ground level at 409 Massachusetts Ave. last occupied by Mass Ave Toys.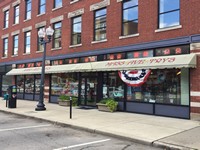 The downtown location will be the first in Indiana for the Tampa, Florida-based bar and restaurant chain, which has signed an agreement with a local franchise team to operate it.
The group consists of Brian and Staci Menzie, owners of seven area Jimmy John's sandwich shops, and Addison and Shawna Lusby, operators of two Pita Pit restaurants.
"I'm in love with the space, mainly due to what's around us," Brian Menzie told Property Lines. "We'll keep them coming back with our food and service."
World of Beer offers 500 brands of bottled beer and 50 taps, with up to half of those reserved for local brewers.
Founded in 2007 in Tampa, Florida, World of Beer has nearly 80 locations nationwide. The closest outposts now to Indianapolis are in Louisville, Kentucky, and Columbus, Ohio.
In related news:
• Mass Ave Toys is set to reopen May 15, in 5,400 square feet of space within the 54th & Monon Shops. The three one-story buildings on 54th Street just east of the Monon Trail house about 20 eateries, art studios and other retailers.  
The toy shop vacated its Mass Ave space at the end of last year, triggered by the sale of the building, which closed in September, to Monon Housing Partners LLC.
Natalie Canull founded Mass Ave Toys in 2006 after operating Kits & Kaboodle from 1978 to 2005.
In City Market:
• Completely Nuts and Candy Co. has opened its third location, in downtown's City Market. The candy shop, operated by Lynda Dunbar, also has locations in Greencastle and Crawfordsville.
• Bowman Bakery in the market has closed.
Another closing, albeit temporarily:
• Fresco Italian Sandwich Shoppe in Lockerbie Marketplace has shut its doors for the summer season.
"With the seasonal reopening of our downtown canal location just seven blocks away, the Lockerbie location will be closed beginning April 8 through summer," a sign on the door says.
Fresco Italian Cafe is located along the Central Canal at 310 W. Michigan St. in the Cosmopolitan on the Canal building.
Elsewhere:
• Panda Express has filed plans to build a 2,620-square-foot restaurant at 6020 E. 82nd St., where Don Hall's Castleton Grill formerly stood.
Please enable JavaScript to view this content.