A new plan to redevelop the former Omar Bakery property near East 16th Street is nearing city approval, with the proposal calling for the demolition of the vacant, century-old building.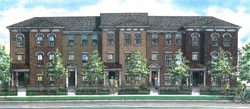 After receiving the green light from the Regional City Hearing Examiner on May 11, the proposal from CalAtlantic Homes of Indiana (formerly Ryland Homes) to build 34 townhomes on the near-north-side lot is set to be presented June 7 to the Metropolitan Development Commission. (Click top image for larger view.)
CalAtlantic is buying the 1.7-acre property from Monte Froehlich, who purchased the site in 2013, according to county assessor records. Froehlich is president of Lincoln, Nebraska-based U.S. Property Management, which failed to deliver on recent plans to build 49 apartments and commercial space in the three-story structure.
The century-old building at the southeast corner of East 16th and Bellefontaine streets (second image) housed the Omar Baking Co. from 1927 to 1966.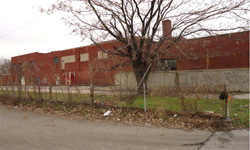 William Elwarner, who owned Grocers Baking Co., had the building constructed in 1915. It was originally called Elwarner Flats and featured a ground-floor retail space rented to a grocer, a downstairs laundry and upstairs apartments. Elwarner founded City Baking Co. in the building in 1918 and occupied it until selling it to Omar Baking in 1927.
The company, which maintained baking facilities in several Midwestern cities, folded in 1966. Its demise has been attributed to a number of possible factors, including the death of its owner and the rise of supermarkets, according to the local website HistoricIndianapolis.com.
Plans from CalAtlantic call for the building's demolition. Mark Dollase, Indiana Landmarks' vice president of preservation services, said the organization voiced its opposition to the plans to demolish the building at the regional center meeting. But the building isn't eligible for National Register of Historic Places recoginition.
"It's Indiana Landmarks' belief that the structure, or part of the structure, could have been rehabilitated for a project on that site," Dollase said.
In its place, the homebuilder plans to construct 34 for-sale townhomes in five to six buildings, with five to seven homes per building, said Craig Jensen, CalAtlantic division president.
The three-story homes wwould range in size from 1,700 square feet to 2,300 square feet and would feature two-car attached garages. Jensen declined to provide a price range for the homes or how much CalAtlantic will spend on the overall project.
"We're excited to be a part of downtown and to be able to offer this premium housing for the demand that we see," Jensen told Property Lines. "It's an exciting area and a great opportunity. It's going to fit in very nicely with what's there now."
That stretch of East 16th Street, from Pennsylvania Street east to roughly the Monon Trail, has exploded with both restaurant and residential activity in recent years.
Peter George and Thomas Main opened Tinker Street Restaurant & Wine Bar in January 2015 at 402 E. 16th St., followed it up with Festiva to the east  at 1217 E. 16th St. , and now are planning BBQ Barn adjacent to Festiva.
On the residential side, Bloomington-based Rubicon Construction LLC is developing 319 on 16th, a 26-unit project at East 16th and North New Jersey streets with condos starting at $300,000.
And east of the Monon, TWG Development LLC is developing Monon Flats in the old Gleaner's Food Bank building with 145 apartments. Across the street, Third Street Ventures is converting a 1913 building into a mix of office and retail space called Tinker House. Hotel Tango Whiskey—which operates at 702 Virginia Ave.—is set to open a production facility and event space there.
Please enable JavaScript to view this content.