It's official: Kimbal Musk's Kitchen Restaurant Group says it will open a Next Door eatery on College Avenue south of Broad Ripple in the Meridian-Kessler neighborhood.
The company announced Wednesday morning that it will sign a lease to occupy the former Double 8 Foods store (see image below) at the southeast corner of 46th Street and College Avenue.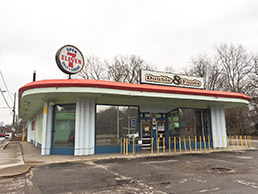 Next Door is slated to open in November.
A concept from the Boulder, Colorado-based Kitchen Restaurant Group long has been anticipated to take the 4,600-square-foot building. Musk, co-founder of Kitchen, is the brother of Tesla Motors CEO Elon Musk.
In December, several posts on a Meridian-Kessler neighborhood Facebook page indicated Musk was close to taking the space.
"Our team jumped at the opportunity to be in this iconic space and part of the revival of the SoBro neighborhood," Kitchen Restaurant Group President Don Degnan said in a press release. "Next Door is a perfect fit for this space as a gathering place for the community, serving real food from American farmers."
The group describes Next Door as an urban-casual, American eatery with dishes priced in the $16 to $18 range. It will seat 120 patrons inside and 50 on an outdoor patio.
The building was constructed in 1930 and originally was occupied by a Kroger grocery. The Double 8 location closed in 2014, and the building was purchased the next year by an affiliate of local developer PK Partners.
PK Partners has since sold the building to Gershman Partners.
"Our vision for this building will come to life with Next Door brining renewed energy to this corner," Eric Gershman, a principal of Gershman Partners, said in the release. "We are confident that Don, Kimbal and The Kitchen team will pay homage to its history as a food center for the community."
This is the second partnership that Gershman and The Kitchen group have forged.
Hedge Row, another Kitchen concept, is expected to open in August in Gershman Partners' new Marietta building on Massachusetts Avenue.
Musk and Hugo Matheson co-founded The Kitchen in 2004. It operates Hedge Row, Next Door and The Kitchen restaurants nationwide.
Please enable JavaScript to view this content.