Milhaus Development LLC has won a major victory in its quest to build a $23 million apartment and retail project along North College Avenue in the Meridian-Kessler neighborhood.
Marion Superior Court Judge Michael Keele last month ruled in favor of the local apartment developer, which had faced a challenge from Meridian-Kessler residents Andrew Keenan and Anna and Karl Tanner.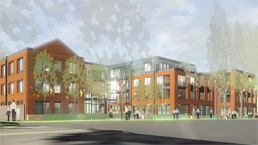 The complex on the west side of the 5800 block of College Avenue is designed to include 100 apartment units. (Rendering by Ratio Architects, provided by Milhaus Development)
Arguing that their homes would be adversely affected by the development, they had asked Keele to review whether the city's Metropolitan Development Commission in November properly granted two zoning variances for the project.
Milhaus sought the variances as part of its plans to build the mixed-use development on the former AT&T property in the 5800 block of College, south of Kessler Boulevard. The project calls for 100 apartment units and 9,200 square feet of street-level retail space. (Click on accompanying rendering for larger view.)
The commission approved the variances allowing the buildings to be constructed at a height of up to 54 feet, higher than the 35 feet permitted, and with front setbacks of up to 54 feet when a maximum of just 20 feet is allowed by zoning rules.
Keenan lives just south of the Milhaus property and the Tanners to the west. Both Keenan and the Tanners argued that their homes would be affected by the variances because the taller heights of the apartment buildings will give residents clearer views onto their properties, while the larger setbacks would move the structures closer.
The neighbors claimed the commission improperly granted the zoning variances Milhaus sought because state law, in part, says a variance can be approved only if it will not be "injurious to the public health, safety, morals and general welfare of the community."
In December, they filed their petition for judicial review, asking the judge to order the commission to reverse its decision.
But the judge disagreed.
"Petitioners argue that Milhaus' injury is self-created because it purchased the property with knowledge of the applicable zoning ordinances, but Indiana courts have held that the mere purchase of property with knowledge of applicable zoning ordinances does not necessarily constitute a self-created injury," Keele wrote.
Keenan and the Tanners provided testimony from nearby residents arguing for their concerns about the height and setback, Keele said in his ruling. "But … relying upon such evidence presented in opposition to reverse the MDC's decision would require the court to improperly reweigh the evidence, which the court declines to do," Keele wrote.
S. Gregory Zubek, the lawyer for the neighbors, didn't return a phone call seeking comment on the judge's ruling. They still could appeal within the next few days before the 30-day period expires. Keele issued his ruling June 8.
Milhaus officials also didn't respond to a request for comment.
Please enable JavaScript to view this content.