Today's roundup includes some new options for victuals downtown and in the quickly evolving Fountain Square area.
— A Carmel-based winemaker is expanding to downtown Indianapolis and is taking space at the new retail and apartment project at the southeast corner of the intersection of Massachusetts Avenue, College Avenue and St. Clair Street.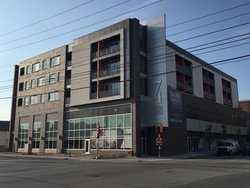 Called 747, the project from Milhaus Development LLC offers 36 apartments (30 of which have been leased) and about 7,900 square feet of ground-level retail space (see accompanying image).
Peace Water Winery will take more than 2,400 square feet and will be joined there by Penn and Beech Candle Co. (1,327 square feet) and a Bank of America branch (1,142 square feet). About 3,000 square feet will remain for lease.
The winery was founded by husband-and-wife team Scott and Laura Burton, who opened Peace Water in fall 2014 at 37 W. Main St. in the Carmel Arts & Design District.
Peace Water's wines are made in Napa Valley in northern California. It donates 50 percent of its profits to charity. The Carmel location acts as a tasting room. Peace Water also sells its wines online.
Scott Burton said the Mass Ave corridor offers the perfect atmosphere to complement Peace Water's Carmel location.
"Our tasting room features the same vibrant but laid-back, casual atmosphere as the [Mass Ave] neighborhood, so the location is a natural fit, especially with our outdoor patio overlooking the Cultural Trail, Mass Ave and other new developments," Burton said in a prepared statement.
All three tenants in 747 are expected to open later this summer or in early fall.
Penn and Beech Candle Co. is a new business started by Brianna Doles. It specializes in natural gourmet soy candles and will offer hand-poured candles in more than 40 fragrances.
Crystal Kennard and Scot Courtney of Lee & Associates represented Milhaus in the transactions.
— It didn't take long for the vacant Marrow restaurant space in Fountain Square to put some meat on its bones.
Marrow, an innovative restaurant with an eclectic menu that opened at 1106 E. Prospect St. in November 2015, went out of business last month. Now, Turchetti's Salumeria will open a wholesale production facility and retail shop in the space.
Co-owner George Turkette says the opening date is unknown at this time. Turchetti's offers its products at the Garfield Park Farmers Market and at Bent Rail Brewery for the Broad Ripple Wednesday Market.
Its meats also are featured on the menus at Milktooth, Stella, Oakley's Bistro, Bent Rail, Italian House on Main and the Indianapolis Museum of Art's beer garden.
— Swedish-based clothing retailer H&M is slated to open on July 27 in The Shops at Perry Crossing in Plainfield, the company announced. The store will be H&M's third in the Indianapolis area.
H&M will take 24,000 square feet at the mall at the 600,200-square-foot mall near Perry Road and U.S. 40. Property Lines first reported in October that H&M would take the space.
The retailer already has local stores at Circle Centre downtown and Castleton Square Mall, both operated by Simon Property Group Inc. Overall, the international chain has more than 4,000 stores in 62 countries.
— The Fashion Mall at Keystone plans to host three "pop-up" stores through the holiday season.
Addendum Gallery, a purveyor of fine decorative goods located in Carmel, will open a temporary shop on Aug. 1 in a space next to Restoration Hardware. Hot House Market, a vintage boutique for trendy goods and pop culture items, will open in the first week of August near Saks Fifth Avenue. And Nurture, a seller of children's clothes and other items that currently operates a storefront on Mass Ave, will open a pop-up store across from Banana Republic in August.
A quick heads-up: Renovation of the Fashion Cafe, aka the mall's food court, will begin in mid-August.
— A Dollar Tree location opened this month at 12570 Reynolds Drive in Fishers, near the busy intersection of 126th Street and State Road 37, in a store abandoned by Walgreens in 2015.
— Home Grown Indiana, a store that features products made in Indiana, has opened at Hamilton Town Center.
 
Please enable JavaScript to view this content.