West Fork Whiskey is preparing to join Cannon Ball Brewing in the hot Kennedy-King neighborhood north of East 16th Street.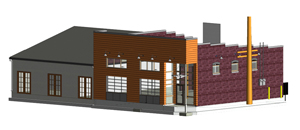 Owners announced Monday that the distillery intends to relocate in early fall to 1660 Bellefontaine St., in the vacant building south of Cannon Ball. (Click on rendering for larger image.)
Beside the distillery, West Fork also will feature a bar, lounge, dining room and retail space where patrons can buy the whiskey.
West Fork bills itself as a locally sourced whiskey distillery. David McIntyre and brothers Blake and Julian Jones launched West Fork about two years ago.
It's been operating from a warehouse at 86th Street and Zionsville Road on the city's northwest side and selling directly to liquor stores and restaurants. But now West Fork plans to move closer to downtown and offer a tasting room in an up-and-coming area.
Cannon Ball opened last August at 1702 Bellefontaine St. Festiva, launched by the restaurateurs behind Tinker Street Restaurant & Wine Bar, opened in December one block to the south at 1217 E. 16th St. Next door to Festiva, BBQ Barn should be opening soon. To the east, another distillery, Hotel Tango Whiskey, which operates at 702 Virginia Ave., is set to open a non-retail production facility.
Blake Jones and David McIntyre left the banking industry and Julian Jones left medical school to start West Fork.
"We cashed in our 401(k)s and started making whiskey on the nights and weekends," Blake Jones told Property Lines.
West Fork currently offers three products: 2 Hour Delay, an un-aged whiskey made entirely from Indiana corn; Double Down: an all-Indiana corn whiskey aged in used bourbon-barrels; and The Colonel, a wheat-centric bourbon.
Together, West Fork owners and the landlord of the building will spend about $150,000 to rehab the structure.
R+B Architects is the designer of the project. Emergent Construction is overseeing the rehab of the century-old building.
Please enable JavaScript to view this content.