Here's a handful of downtown updates for your reading pleasure as we head into the holiday weekend:
• Sugarfire Smoke House won't be opening in early fall, as it suggested in a late June announcement.
The St. Louis-based barbecue joint is slated to take the space at 24 W. Washington St. last occupied by a Penn Station East Coast Subs shop, adjacent to Rock Bottom Restaurant & Brewery.
With no activity occurring at the building yet, Property Lines inquired about the status of the fall opening. A Sugarfire spokeswoman said in an email that owners are "working to maintain the integrity and historical value of the building, and therefore [it's] now slated to open in the beginning of 2018."
The spokeswoman declined to provide more specifics. David Baker, administrator of the Indianapolis Historic Preservation Commission, said IHPC is working with owners on the design of an outdoor sign and awnings that is acceptable to staff.
"We've been working with them to get their plans to be a little more sensitive to the character of the building," he said. "I think we're going to get there. We're just waiting for them to get us their stuff."
The fast-casual restaurant opened in 2012 and is known for its brisket, pulled pork and ribs. Sugarfire consistently has been ranked the best barbecue in St. Louis by local and national publications, the company said.
Founder and chef Mike Johnson and partner Christina Fitzgerald will join with Tom Lombardo, John Brauch and Mark Pitlianges as owners of the Indianapolis outpost.
It will be the seventh for the eatery and the first outside of Missouri.
Also on Washington Street:
• Jos. A. Bank, at 10 E. Washington St., sandwiched between Chipotle and CharBlue Steak & Seafood, has shut its doors.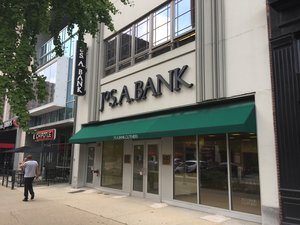 The men's clothing store opened in late 2011, helping fill out street-level retail uses on a block that had been undergoing a slow-motion resurgence since the late 1990s. Chipotle and CharBlue's predecessor, Georgia Reese's Southern Table & Bar, opened after Jos. A. Bank took over its space.
Jos. A. Bank operates local stores at Greenwood Park Mall, Fashion Mall Commons, the Shops at Perry Crossing, Clay Terrace and Hamilton Town Center, according to its website.
The chain is owned by Houston-based Tailored Brands Inc. Representatives did not immediately return a call from IBJ for comment.
Also closed:
• Edible Arrangements at 17 N. Pennsylvania St. A sign on the door says the store, between Big Red Liquor and Jack's Pizza, is moving to 910 W. 10th St. and will open on Sept. 11.
• Krieg Religious Supply at 119 S. Meridian St. The storefront is boarded up and a sign on the door says to check its Facebook page for updates. The owners are searching for a new site following engineering studies deeming the building unsafe.
The owner of the building, Rick Coombes, is pitching a 24-unit condominium development that would salvage some of the historic structure.
Please enable JavaScript to view this content.