Today's roundup is laden with south-side news:
• A far-east side bar and restaurant is expanding to the south side, with plans to open the second location in January.
Whiskey Business, at 11915 Pendleton Pike in the Oaklandon Commons strip center (see accompanying image), has agreed to take 5,600 square feet at 5220 E. Southport Road just east of Emerson Avenue. The space was last occupied by Southport Bar & Grill.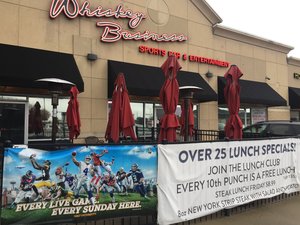 "It will be tougher down there. There's a lot of competition," said Mike Doran, majority owner of Whiskey Business. "But I feel like we've got a good opportunity to try and make it work."
Doran, along with Jared Showers and Jason McClure, opened Whiskey Business eight years ago. The 21-and-over hangout has built a reputation as a sports bar featuring live entertainment. The Southport location will cater to the same crowd, Doran said, albeit with a different menu heavy on burgers.
"We want to be known as a place to come and eat," he said.
Owners plan to market the Southport restaurant using "burgers, bourbon and brews" as the hook.
Also on the south side:
• Portillo's is moving forward with its plans to open at 8159 U.S. 31 South, on the site of a closed Don Pablo's Mexican Kitchen, as reported by Property Lines in early October. The structure will be torn down to make way for the new restaurant.
A city zoning board approved a request by Portillo's for exceptions to development standards, including decreasing the property's front setback from 10 feet to 5 feet and accepting some unusual visual elements.
Portillo's then filed a construction permit on Monday, indicating it will build a 9,022-square-foot restaurant on the site. A spokeswoman for the Chicagoland staple said she had no "new information to share" on any opening date.
Portillo's, known for its Italian beef and hot dogs, arrived in the Indianapolis area on Sept. 28 with the opening of a 9,000-square-foot restaurant at 9201 E. 116th St. in Fishers.
• Culver's has filed plans to build a 4,475-square-foot outpost at 1142 N. Emerson Ave., in Greenwood just south of County Line Road and west of a Walmart supercenter.
Based in Prairie du Sac, Wisconsin, Culver's has 11 locations in the metro area. It is known for its frozen custard and butterburgers,
• To the north, Dunkin' Donuts has filed plans to build a 2,154-square-foot store at 7950 S. Emerson Ave. near Franciscan Health and west of Interstate 65. Dunkin' has nine stores in the Indianapolis area.
Elsewhere:
• Aldi is set on Nov. 9 to reopen its store at 10325 Pendleton Pike following a remodeling.
The German grocery chain is spending $30 million to renovate 22 stores in central Indiana and a total of $1.6 billion to remodel 1,300 stores across the country by 2020.
• Prime Car Wash has broken ground on its fourth Indianapolis-area location, in the northeast quadrant of U.S. 36 (Rockville Road) and North County Road 900 East in Avon.
Fishers-based Prime was founded in 2012 and has locations in Fishers, Carmel, Greenwood and Noblesville, in addition to one in Jacksonville, Florida.
Closings:
• The lone metro-area Smashburger has shut its doors. The Denver-based burger joint in 2015 opened the restaurant in Westfield, at Cool Creek Commons on East 146th Street, between Gray Road and U.S. 31.
The Denver-based burger joint's only Indiana outpost is on the University of Notre Dame campus in South Bend.
• In case you missed it, Granite City Food & Brewery Ltd. announced Wednesday that it has closed its Cadillac Ranch bar and restaurant in downtown Indianapolis.
Minneapolis-based Granite City's decision to shutter the country-and-western-themed venue in historic Union Station came down to its financial performance, according to a written statement.
Bartini's, an adjoining lounge operated by Granite City at the same address, also closed.
Please enable JavaScript to view this content.