There's no shortage of car washes around Indianapolis.

But the owners of Prime Car Wash think the competition has missed a spot—both here and around the country.

Prime Car Wash opened its second location last month and is now advertising on its website for franchisees to "create a national brand."

Before it can do that, however, Prime will have to prove it can compete against the 200 other car washes in the Indianapolis area. That includes more than 20 locations operated by locally based Crew Carwash, formerly known as Mike's Carwash, which has the dominant brand in this market.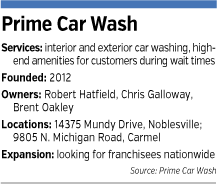 Prime is offering something Crew does not: full-service car washing, which means both interior and exterior cleaning, as well as detailing services. It's also offering a high-end experience in its stores, including coffee and the use of iPads while customers wait.

"In full-service car washing, there isn't someone that has developed a dominant brand, or taken a larger part of the market share," said Robert Hatfield, one of three co-owners of Prime, in a video aimed at potential franchisees. "Our idea was to create something new, something different, with a lot of energy."

Prime was founded in 2012 by Hatfield, Chris Galloway and Brent Oakley. Hatfield and Galloway are both chiropractors who founded ProWellness Chiropractic in Fishers. Oakley, who is Prime's CEO, used to be a sales representative for the medical device company Medtronic.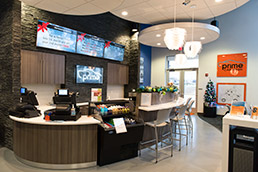 Prime Car Wash tries to woo high-end customers with a coffee bar and iPads. (IBJ photo/Eric Learned)
Nationally, full-service car washes are not where the growth is occurring, noted Eric Wulf, CEO of the International Carwash Association, based in Chicago.

"The most common car wash format being constructed today is based on low labor and automation. Full-service, 'salon-like' offerings are certainly still viable, but it will require a supporting demographic," Wulf said.

By that, he means customers with disposable income. While 71 percent of all Americans use a car wash at least once a year, only about one-third of those customers bring their cars in multiple times per month, according to the association's surveys.

Those frequent visitors account for 75 percent of all the washes in the car wash industry. They are most likely to be 25 to 44 years old and have above-average incomes, according to a 2011 survey conducted for the association.

So far, Prime has located its car washes in areas where such customers are concentrated, noted Mark Perlstein, a broker at Indianapolis-based Sitehawk Retail Real Estate.

Prime's first location is along State Road 37 near 146th Street in Noblesville. Its newest store sits along Michigan Road between Indianapolis and Zionsville.

"They're going to strive for the higher-income areas," Perlstein said of Prime. "The [store] that Prime did [in Noblesville] is kind of the Cadillac of car washes, there's no doubt about that."

Interestingly, Prime's Noblesville store sits three miles directly south on 37 from a Crew Carwash. And Prime's Michigan Road location sits a mile south of one Crew store and 1-1/2 miles north of another Crew location.

Perlstein said Crew will be difficult to compete against because it is so good at picking the best locations for its stores.

"The car wash industry is highly competitive and very difficult to penetrate, especially when you have companies like Mike's and Crew," Perlstein said.

Crew renamed itself earlier this year after splitting central Indiana locations into a separate company from those in Ohio and other parts of Indiana, which still operate under the Mike's name.

Prime's owners like their chances. They note that their Noblesville store has been successful with customers.

"My wife and I bring our cars exclusively to you guys for a reason! Keep up the great work!" wrote Noblesville resident Rich Kissling on Prime's Facebook page.

Prime offers exterior-only washes for $12—which is comparable to Crew's exterior-only washes, which range from $8 to $19, depending on the number of treatments.

An interior and exterior clean at Prime costs $24, according to the company's website. Detailing services—such as hand wax, carpet shampooing and scuff removal—cost $52.50 each, with discounts for customers who become Prime members.

"We are confident in the model itself. We have a proven track record in our location in Noblesville," Hatfield said. "We've had a great deal of success compared to any business, any franchise specifically. Very confident in the success we have ahead of us."

Hatfield said it costs $2.8 million to $4 million to open a Prime franchise, with Prime charging royalties of 6 percent of gross sales.

Those are standard for franchise businesses, said Perlstein, the retail real estate broker.

"So we felt like there was an opportunity if we could put business philosophy and business skill sets, along with good sound operations in the car wash industry, to develop something that could grow rapidly," Hatfield said.•