As one apartment project in Fountain Square prepares to open, a similar project planned for the rejuvenated neighborhood has cleared a big hurdle.
Deylen Realty next month will begin welcoming its first tenants to Forte, said Craig Von Deylen, a partner at the local developer.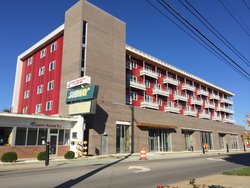 Forte is a $7.9 million apartment-and-retail project built on a surface lot at 1202 S. Shelby St. that had been owned by the city. The five-story building (see image at right) sits one block south of the Fountain Square Theatre Building, and includes 64 market-rate units, 4,000 square feet of retail and a 70-space parking garage.
The monthly rental rates are as follows: 16 studios priced from $590 to $1,190; 40 one-bedroom units priced from $1,175 to $1,290 and eight two-bedroom units priced at $1,490 to $1,790.
In September 2014, the city selected Deylen to redevelop the lot from three proposals it received. Deylen bought the nearly one-acre parcel from the city for $322,500, an average of two appraisals.
Blackline is the architect on the Forte project
Deylen's other apartment developments include The Hinge and Slate, both on Virginia Avenue in Fletcher Place.
Meanwhile, the City-County Council on Monday authorized by a 24-0 vote the issuing of $3.4 million in tax-increment revenue bonds to assist with a $19 million project at the southwest corner of Prospect and Spruce streets, about five blocks east of Forte.
Plans from Jackson Development LLC of Carmel call for tearing down five old buildings and constructing a new five-story project with 8,500 square feet of commercial space and 94 apartments.
Developer Carter Jackson hopes to start construction next summer.
"I'm very much excited and eager to get to it," he said. "I'm very optimistic about it."
The site is a few blocks east of Fountain Square's core, where Prospect intersects with Virginia Avenue and Shelby Street, and could help overhaul the  Prospect Street corridor, which hasn't enjoyed the same amount attention from developers as Virginia Avenue.
It will sit directly east of Santorini Greek Kitchen, a popular dining landmark that will remain in its location. The restaurant's owners, Taki and Jeanette Sawi, put the adjoining property up for sale in 2015, and Jackson arranged to buy it for the apartment project.
    
The area sat outside a tax-increment financing district, making it difficult for the developer to receive city assistance for the project. But city officials, through Metropolitan Development Commisson approval, established a new TIF district just to cover the project area.
The city's $3.4 million pledge is based on the tax increment expected to be generated by the project. If for some reason the increment doesn't cover the amount the city provides, the developer, through a developer-backed bond, is responsible for the difference.
Please enable JavaScript to view this content.