The developer of a downtown hotel project that incorporates a historic African-American church has updated its design.
Local hotelier Bharat Patel's Sun Development & Management Corp. is set to build the $30 million project on the site of the Bethel African Methodist Episcopal Church at 414 W. Vermont St. on downtown's west side, just west of the Central Canal.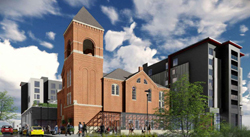 New renderings submitted to the city for the dual-branded hotel show Hampton Inn and Homewood Suites by Hilton as the flags that would fly there—the first time the brands have been revealed.   
The architect on the project is locally based CSO Architects.
Patel in 2016 received rezoning approval for the site and got the thumbs-up from the city's Regional Center Hearing Examiner on its design for the 197-room hotel.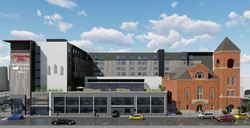 On Thursday, the Regional Center Hearing Examiner approved design changes for the project. The petition will next be heard on Dec. 20 by the Metropolitan Development Commission. (New renderings appear at right; click for larger views.)
Revised plans include an improved storefront along West Street and elevation changes. However, building materials will mostly stay the same as Patel originally presented. They include glass, brick and fiber cement, according to city documents.
Patel didn't return phone calls seeking comment on the changes or when construction would start.
Built in 1869, Bethel was the city's oldest African-American church. Dwindling membership and an aging building requiring costly repairs forced the congregation to sell the historic property near the Central Canal.
Bethel members are worshipping at the Unity Center at 2163 N. Illinois St. until they can raise the funds to build a new church on Zionsville Road on the northwest side.
Please enable JavaScript to view this content.