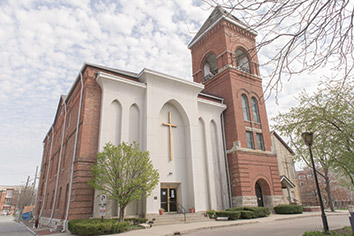 The city's oldest African-American church is poised to become a hotel as part of a larger, $30 million project that could add more than 200 rooms to downtown's lodging inventory.
Bethel African Methodist Episcopal Church at 414 W. Vermont St. on downtown's west side was built in 1869 and has served the black community at its current location for nearly 150 years. But dwindling membership and an aging building requiring costly repairs are forcing the congregation to sell the historic property near the Central Canal.
Church leaders have reached an agreement with local hotelier Bharat Patel's Sun Development & Management Corp., which has the site under contract.
Sun's plans for the Bethel site call for two hotels—one a redevelopment of the historic church building and the other to be built next to it on a lot fronting West Street. The second hotel would include three levels of parking and roughly 10,000 square feet of retail space.
"I think it will be a dynamite development along the canal," said Patel, Sun's CEO. "That quadrant [of downtown] doesn't have enough hotels."
The closest are the Marriott's Courtyard at the Capital and its Residence Inn, both across the canal from Bethel.
Patel expects the two hotels will total about 200 rooms and serve visitors to IUPUI, the hospitals on the campus, and the NCAA headquarters along the canal to the south.

Patel
It's yet to be determined what flags the hotels will fly. Patel said one will be a full-service boutique hotel and the other will be select service, a hotel class between full and limited service.
Bethel's 150 members decided to seek offers on the property after learning it would take $2 million to repair the church, said Rev. Louis Parham.
"We are a congregation that does not have that," he said. "We thought we might be able to raise the money, but that did not pan out."
Deferred maintenance on the building is evident. Shingles on the roof of the bell tower are falling off, the bricks are worn, and a sign welcoming visitors is missing letters.
Redeveloping a historic building that dates to the same decade as the Civil War will pose some challenges, but that is Patel's goal for the building, which has been listed on the National Register of Historic Places since 1991 but isn't protected from demolition.
Patel plans to save the bell tower and church façade as part of the hotel design.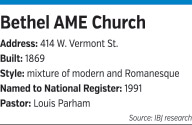 "Mr. Patel's offer has been the best that we have seen," Parham said, "not only in terms of dollars and cents but also in his willingness to preserve the property."
Patel offered another incentive to ink the deal, promising to contribute $50,000 a year to Bethel over the next decade to help the congregation buy or build another church.
Whether the local preservation group Indiana Landmarks will support the project is uncertain. The not-for-profit wants additional conversations with Patel before endorsing it, said Mark Dollase, Landmarks' vice president of preservation services.
"Retaining facades, candidly, doesn't really do it for us," he said. "It doesn't really address the history that took place on this site."
Bethel's founding in 1836 predates the current building on Vermont Street by more than 30 years. A group of African-American Methodists built a small church on Georgia Street between the Central Canal and Senate Avenue before seeking a bigger building to serve the growing number of blacks arriving from the South following the Civil War.
Patel has filed with the city to rezone the Bethel property and could present his request April 28 to the Metropolitan Development Commission's hearing examiner. Patel also will need the city's Regional Center hearing examiner to approve the project's design.
To help offset the cost of the $30 million development, Patel likely will seek city incentives, he said. If built, the project will pay property taxes on land that has been exempt under church ownership.
The church and parking lot together are assessed at $954,900, according to county records.
Pending city zoning and design approval, the deal could close sometime in the summer, said Patel's attorney, Mary Solada of Bingham Greenebaum Doll LLP.
Bethel would be the latest downtown African-American landmark to be redeveloped.

Parham
Indianapolis-based Van Rooy Properties is investing $3.5 million to refurbish the Phillips Temple on Dr. Martin Luther King Jr. Street as part of a project featuring 18 one- and two-bedroom apartments on three levels along with 24 additional units in a new building.
And Olaf Lava LLC, an entity of Bloomington-based Cedarview Management, is integrating the Willis Mortuary building, also on Dr. Martin Luther King Jr. Street, into a 30-unit project and parking garage on a surface lot surrounding the mortuary.
Indiana Landmarks supported the two projects because the existing structures "were kept in whole," Dollase said.
Meanwhile, strong downtown hotel occupancy is continuing to drive demand for more rooms.
Occupancy in the central business district grew from 65.7 percent in 2010 to 71.7 percent last year, according to CBRE Hotels. At the same time, average daily room rates climbed 18.1 percent, from $126.84 to $149.85.
"We have become a hot market for hotel developers, and in particular because of our occupancy," said Chris Gahl, Visit Indy's vice president of marketing.
Developers are betting demand stays strong.
One, the St. Louis-based Drury Hotels chain, in February completed a deal to buy the IBJ Media building at 41 E. Washington St. and build a 350-room hotel by renovating the four-story structure and constructing a 17-story tower on the adjacent parking lot. Work likely won't begin until 2019, when leases in the existing building expire.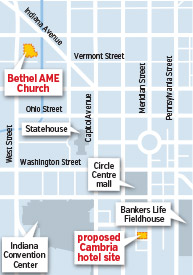 And besides agreeing to buy Bethel church, Patel has signed on to develop a 12-story, 150-room Cambria for Rockville, Maryland-based Choice Hotels International. Choice first presented plans last October for the $20 million project to be built on a surface lot on South Meridian Street.
Patel's group has since become involved in the project, which would be built at the northwest corner of South Meridian Street and Jackson Place, on the surface lot just south of The Old Spaghetti Factory.
The $20 million project includes 15,000 square feet of retail space. The timing of the project is uncertain pending city approval of design changes that are in the works.•
Please enable JavaScript to view this content.