Here are some end-of-year openings for eateries, and a few to look forward to early next year:
• Blue Sushi Sake Grill is expected to open in February in the Ironworks Hotel on the north side, according to Nebraska-based owner Flagship Restaurant Group.
At Blue Sushi, dishes are served at the center of the table in traditional Japanese style, featuring maki, nigiri and sashimi along with specialty options. Additional menu items include the River Rock Beef Tenderloin, beef served on sizzling hot rocks with jalapeño ponzu and yuzu kosho, and the Chili Nasu, a vegan dish with broiled Japanese eggplant, creamy lemon miso sauce, crispy sweet potato, chili threads and chives.
The location at 2721 E. 86th St., west of the Fashion Mall at Keystone, will be Blue Sushi's first in Indiana, and 13th overall. Others are in in Nebraska, Colorado, Texas, Kansas, Illinois and Kentucky.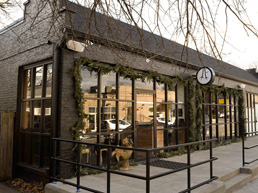 • The long-anticipated Crispy Bird from Patachou matriarch Martha Hoover opens today (Thursday) for lunch.
The fried chicken diner at 115 E. 49th St. (see photo at right) is in the space last occupied by Barking Dog Cafe and across from Hoover's flagship Cafe Patachou.
Crispy Bird is operated by Hoover's son, chef David Hoover. The menu consists of Southern-style fried chicken and Southern-inspired snacks, sides and small plates.
• Ukiyo, the Japanese farmhouse bistro from local restaurateur Neal Brown, should open in January, Brown told Property Lines in a quick email.
It's taking the space formerly occupied by Recess at 4907 N. College Ave.
Brown operates Pizzology in Carmel, and European restaurant Stella at 611 East St., with the Libertine bar in the basement.
• Burnside Inn opens Sunday at 314 Massachusetts Ave. The three-story bar, lounge and live entertainment spot is operated by serial entrepreneurs Ric Payne and Will Howe, who co-founded the Indianapolis-based Wild Beaver Saloon chain, among many other joint projects.
Also involved in the project is Kerry Payne, Ric's brother, who also is an owner of Wild Beaver Saloon. Jill Kelly Howe, Will's wife and a costume designer at Beef & Boards Dinner Theater, will be handling the entertainment booking.
Burnside Inn is named for Liberty, Indiana's favorite son, Civil War Gen. Ambrose Burnside. Although notable as a military man, inventor and politician, Burnside is best remembered today for his distinctive facial hair, which led to the term "sideburns."
IBJ reporter Lou Harry has more details.
• 32 Taps opened Nov. 20 in the former Moon Dog Tavern space at 4825 E. 96th St.
The bar/restaurant is owned by Greenwood-based Johnson Hospitality Group, whose other offerings include Mucky Duck Pub on the south side and Spin Nightclub in Broad Ripple.
32 Taps, named of course for the bar's number of beer taps, features 20 55-inch televisions and a 6-by-12-foot high-definition video wall to show NFL games.
The menu includes appetizers, salads, wraps, handmade pizzas, fresh ground beef hamburgers and desserts.
• Local bakery and cafe The Cake Bake Shop announced Nov. 30 that it's opening a second location, at Carmel City Center.
The restaurant will be in the Baldwin/Chambers building under construction on Rangeline Road near City Center Drive and should open next fall.
North of 96th reporter Lindsey Erdody had the scoop in October, before the official announcement.
Gwendolyn Rogers founded The Cake Bake Shop in 2014, in Broad Ripple.
• GetGo Cafe + Market today (Thursday) opens its sixth Indianapolis-area store, at 6311 Crawfordsville Road in Speedway.
The gas station and convenience store chain operated by Pittsburgh-based Giant Eagle Inc. offers made-fresh-to-order foods including sub sandwiches, salads, burgers and breakfast sandwiches. Lattes, mochas, iced coffees and espresso beverages also are available.
• Toppers Pizza is set to open Jan. 6 at 586 S. State Road 135 in Greenwood. The take-out and delivery franchise, which opened in Whitewater, Wisconsin, in 1993, has area locations at 910 W. 10th St., and one each in Carmel and Fishers.
Closing:
• 36 East at 36 E. Washington St. downtown has closed after a four-year run—the latest in a string of restaurant casualties at the location.
Please enable JavaScript to view this content.