An Illinois-based developer is set to start construction on a $17 million, five-story hotel two blocks east of Lucas Oil Stadium that's been in the works for more than two years.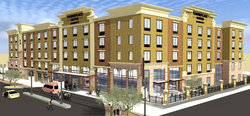 Hillcrest Development Inc. on Wednesday will host a ceremonial groundbreaking at the parcel south of Merrill Street, between Russell Avenue and South Meridian Street as they come to a point in the Stadium Village area.
The 146-room, extended-stay hotel (see accompanying rendering) will fly the TownePlace Suites by Marriott International flag and will be managed by Plano, Texas-based Aimbridge Hospitality.
Russell Avenue is a diagonal, two-block stretch of road that branches off Illinois Street and connects with South Meridian Street at West McCarty Street, where the popular Shapiro's Deli sits on the southwest corner.
The site also sits near the Union 525, Rolls-Royce and Eli Lilly and Co. campuses. The architect on the project, Prince Alexander, is located just to the north, on West Merrill Street.
Hillcrest Development first received approval in July 2015 to vacate an alley to help pave the way for the project.
Hillcrest, based in Dixon, Illinois, has developed roughly 100 hotels. They include the $6 million Best Western Plus hotel in French Lick, which opened in May 2015.
Please enable JavaScript to view this content.