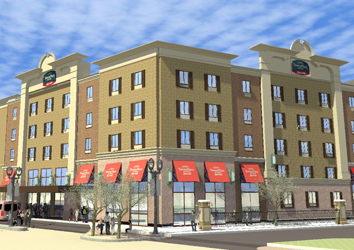 An Illinois-based developer plans to build a 140-room extended-stay TownePlace Suites by Marriott hotel two blocks east of Lucas Oil Stadium, as the downtown lodging market continues to swell.
Hillcrest Development Inc. received approval Wednesday from the Metropolitan Development Commission's plat committee to vacate an alley on the proposed site to free up space to build the five-story, $17 million hotel. It would be located south of Merrill Street and between Russell Avenue and South Meridian Street as they come to a point.
Hillcrest hopes to close on the sale of the land next month and break ground in early October, finishing in about 12 to 14 months, said Steve Alexander, the architect for the project. The vacant land is owned by the estates of attorneys Charles Linder and Tom Cross.
Additional city approval for the project would be required before construction could commence.
Alexander, whose Prince/Alexander Architects Inc. firm on Merrill Street sits just north of the site, thinks the project could benefit the area.
"It's not Mass Ave and it's not Fountain Square," he said of the less trendy south side. "But we're within walking distance of Lucas Oil Stadium," as well as offices for Rolls-Royce and Eli Lilly and Co.
Room rates would range from $150 to $170 per night, Alexander said. Merrillville-based White Lodging, which helped develop the JW Marriott, would manage the hotel.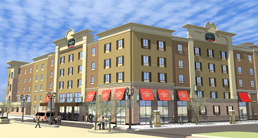 The 140-room, extended-stay hotel could be under construction as early as this fall. (Image courtesy Prince/Alexander Architects Inc.)
The nearly one-acre parcel sits between the Ward & Ward Law Firm to the south and the law office of David Brooks to the north. Brooks is Center Township precinct committeeman for the Marion County Republican Party and husband of U.S. Rep. Susan Brooks.
Russell Avenue is a diagonal, two-block stretch of road that branches off Illinois Street and connects with South Meridian Street at West McCarty Street, where the popular Shapiro's Deli sits on the southwest corner.
The area has attracted previous attention for a hotel. In 2007, Alexander worked with the Radisson brand on a plan for a $47 million, 24-story hotel and condo development called West Merrill Tower.
The plans called for a 200-room full-service hotel and 48 condos atop a street-level restaurant, two-story lobby and seven levels of parking. The economic downturn ultimately killed the project, Alexander said.
The closest hotels to the proposed Marriott site are The Alexander at South and Delaware streets and a trio of lodges (Holiday Inn Express & Suites, Comfort Suites and Staybridge Suites) west of Lucas Oil Stadium.
If plans proceed, the Marriott would be one of four new downtown hotels under development at the same time.
A 102-room boutique hotel is in the works as part of the redevelopment of the historic Consolidated Building at 115 N. Pennsylvania St. The Home2 Suites by Hilton is a joint venture between East Lansing, Michigan-based HRC Hotels LLC and Valparaiso-based Good Hospitality Services LLC.
The Illinois Building at Illinois and Market streets will be home to a Canopy by Hilton. McLean, Virginia-based Hilton Worldwide is rolling out the new brand in 10 cities nationwide.
And Louisville-based 21c Museum Hotels plans to build a hotel on a surface parking lot north of the old City Hall at Ohio and Alabama streets as part of a larger redevelopment of the property.
Hillcrest, based in Dixon, Illinois, has developed nearly 100 hotels. It developed the $6 million Best Western Plus hotel in French Lick, which opened in May.
 
Please enable JavaScript to view this content.