The three remaining buildings that the city owns at the former east-side RCA plant site are set to come down soon, clearing the way for the 50-acre parcel to be redeveloped.
In June, the city finished demolishing the largest structure left on the site—a 106,368-square-foot building at the northeast corner of Michigan and LaSalle streets that housed the headquarters of RCA's consumer electronics division.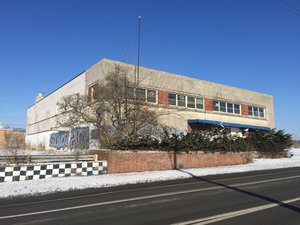 Now the city is preparing to raze a 13,200-square-foot warehouse/office building that fronts Michigan Street just east of the railroad tracks and west of Sherman Drive (see accompanying image), and another to the north that measures 11,000 square feet. In addition, the 38,000-square-foot former Continental Metal Products facility on East Ninth Street, at the north tip of the property, also will come down.
Demolition should begin within the next month and finish by summer, said Piers Kirby, senior project manager of the city's brownfield program.
Near East Area Renewal, which partners with organizations to spur revitalization in 20 east-side neighborhoods, is working with residents to explore redevelopment options for the former RCA plant site, now called Sherman Park.
"All options are being explored," Kirby told Property Lines. "It's a very big site. As the process goes along, those plans will be more formalized."
The city, from the Department of Business & Neighborhood Services' (formerly the Department of Code Enforcement) budget, is paying $310,000 to have the three buildings torn down.
The work will be done by South Bend-based Heartland Environmental Associates Inc. and the local Denney Excavating.
The property originally was developed in the 1920s as the local operations complex for RCA and featured a 750,000-square-foot plant that's also been torn down. RCA was acquired by General Electric Co. in 1986. A year later, GE sold the former RCA to Thomson Consumer Electronics, which morphed from Thomson Multimedia into Technicolor USA Inc.
At its peak in the 1950s, the east-side plant employed 8,200 people, many of them producing TV components. But Thomson, which owns the RCA brand, sent those jobs to Mexico over the years. In 1994, the company moved its headquarters from the Indianapolis plant to Carmel.
In October, the company announced that it would close its facility at 101 W. 103rd St. in Carmel as part of a consolidation that will shift more work to its operations in Lawrenceville, Georgia, ending any ties the former RCA had to the Indianapolis area.
Please enable JavaScript to view this content.