A local developer has started construction on a $6 million residential project that will bring more high-end homes to the thriving Herron-Morton Place neighborhood north of East 16th Street.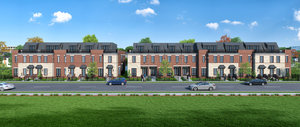 Litz & Eaton Development Co. is building 13 rowhomes as part of a two-building development on the west side of Pennsylvania Street. The surface lot on which the homes will be built sits just north of East 18th Street, in an area where pricey custom houses are cropping up with more frequency.
Dubbed Penn Row, the project will feature homes ranging in size from roughly 2,800 square feet to 4,300 square feet, priced from $499,900 to $800,000.
Given the interest already building from prospective buyers, Litz & Eaton expects to sell most of the homes before the project is complete, said Brad Litz, managing principal of Litz & Eaton. The company should start delivering the residences in late August.
"What will set this apart is that it's held to strict standards from the [Indianapolis Historic Preservation Commission]," Litz said. "We went very high-end."
Litz & Eaton received IHPC approval in October. The homes will boast brick exteriors and metal windows. They'll stand three stories in addition to a basement level and detached two-car garages in back.  
Indianapolis-based Rowland Design is the architect on the project. Architect Alex White worked on the project for Rowland before leaving to start his own firm, White Board. White is an IHPC member, and he recused himself from hearing Litz & Eaton's request for variances.
The company in September bought the one-acre surface lot where it will construct the rowhomes. At the same time, Litz & Eaton bought two office buildings to the west, at 1819 N. Meridian St. and 1827 N. Meridian St.
In addition, it owns the building that spans from 1835 N. Meridian to 1843 N. Meridian.
Litz & Eaton isn't sure what they'll do with the buildings, although redeveloping them into townhomes isn't likely, Litz said.
"We haven't figured out what that's going to be, but it will be something that's cohesive with what's behind it," he said.
Last month, Litz & Eaton received approval from IHPC to build a $10 million, five-building development consisting of 12 luxury condominiums in Lockerbie Square, at the southwest corner of North Park Avenue and East North Street.
Please enable JavaScript to view this content.