The former General Motors stamping plant site on downtown's west side needs nearly $27 million in infrastructure improvements to prepare the first phase of the 103-acre project for redevelopment.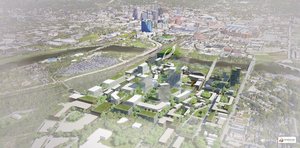 That's the word from Ambrose Property Group, the local real estate firm chosen to develop the parcel. A conceptual rendering of the project appears at right (click for larger view).
Representatives of Ambrose on Wednesday presented their plans to Metropolitan Development Commission members for the 20-acre first phase of the project, which is estimated to cost $92.5 million and take five years to build out.
Overall, the price tag for the entire redevelopment just south of White River State Park on the southwest edge of downtown is expected to top $470 million.
"We can't do it all at once," Phil Bayt, an Ice Miller LLP lawyer representing Ambrose, told commissioners. "It's logical to do it in pieces."
Plans from Ambrose call for 2.7 million square feet of development, including apartments, office and retail space, a hotel, and public green space. The entire project is expected to take 15 years to complete, with 535,000 square feet of mixed-use construction in the first five years.
To finance the infrastructure improvements for the first phase, Ambrose will seek $8 million from the city in existing tax-increment financing funds, $8 million from a TIF-backed bond issue, and $10.75 million from a yet-to-be determined combination of city financing sources, Bayt said.
Planned infrastructure upgrades to the property include:
• Improvements to Oliver Street, White River State Parkway, Division Street and Henry Street, along with construction of new streets
• Construction of a pedestrian bridge along the former Union Rail Line connecting the site to White River State Park
• White River State Parkway loop improvements
• Upgrades to the intersection at Oliver Street and Kentucky Avenue
• Construction of storm water sewer infrastructure
Bayt and Andrew Greenwood, senior vice president of development at Ambrose, presented plans for the infrastructure improvements to commissioners before they're set to vote Feb. 21 on a first-phase project agreement with the city that would include the financing plan for the upgrades. The City-County Council then must also weigh in on the $8 million bond issue and $10.75 million from other city sources.
Commissioners already have voted in favor of rezoning the property. The City-County Council approved the zoning change on Jan. 8.
As Ambrose prepares the site for redevelopment, the area is widely speculated to be a prime option for Amazon's secondary headquarters project. Indianapolis is among 20 finalists selected on Jan. 18 by Seattle-based Amazon after the online retail giant whittled down a list of 238 proposals from cities and regions in more than 40 states.
The HQ2 project is expected to cost more than $5 billion and create 50,000 high-paying jobs over the next 10 to 15 years.
Ambrose officials declined to comment on whether the GM site was part of the city's pitch to Amazon.
"We're positioning this project as 100 acres for the next 100 years," Greenwood at Ambrose said in a press release. "Indianapolis is experiencing significant momentum, and we see that trend continuing. We want to think big, be aspirational and give considerable thought as to how this area can help define Indy's future."
Please enable JavaScript to view this content.