A $6 million mixed-use project that called for 57 apartments and 3,100 square feet of retail space in Fountain Square won't be built after all.
Milhaus Development LLC filed plans with the city in September for a variance to build the four-story structure at 1015 Virginia Ave., expecting to buy the lot. But the owner of the property instead sold the half-acre parcel south of Buchanan Street to Reverie Estates after Milhaus backed away because of environmental concerns with the property, an executive at Milhaus said.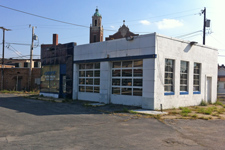 Reverie President Chris Piazza declined to disclose terms of the deal but said it closed May 8. The land contains a vacant building last occupied by a used-car dealership.
Reverie has no plans to build apartments on the lot and will seek approval for a scaled-down development that calls for restoring the historic garage and converting it into a fresh-food market. Piazza said he's in discussions with a potential operator of what would be called Wildwood Market.
The paved lot surrounding the garage would provide space for an urban-food and fashion truck park in which the trucks would lease spaces during lunch and dinner to serve food and sell clothes.
The market is hoping to offer a small selection of beer and wine to not only serve patrons but also visitors to the food and fashion park. The grocery also plans to provide an online ordering and bicycle delivery service to downtown offices and residences, Piazza said.
Food trucks have become part of the urban fabric in many cities. Food and fashion truck parks now are becoming popular in such trend-setting locales as Portland, San Francisco and Austin, Texas.
"It's worked in other cities, and some cities are smaller markets than Indianapolis," said Matt Kornmeyer, owner of Scratch Streetfood LLC and Indy Food Truck Alliance LLC.
The Alliance and Piazza are in discussions about collaborating on the park. Both the market and the park could be open by late summer, Piazza said.
Piazza's Reverie Estates is redeveloping the former Central State Hospital campus on West Washington Street, working to convert four historic buildings at what's now known as Central Greens.
The redevelopment of the administration building into student housing should be ready by the fall, and Piazza hopes to attract a brewery to occupy the kitchen and dining building, he said. Other plans call for an event center and office and industrial space.
Reverie is developing the $5 million project with the assistance of $3 million in financing from LISC.
 
Please enable JavaScript to view this content.