Welcome to What's New Wednesday, a new feature profiling local startups—and the entrepreneurs behind them. This week, we meet Janet Pillsbury, who opened My Toy Garden in Carmel last month.
Type of business: specialty toy store
Address: 301 E. Carmel Drive, Suite A500
Phone: 571-1234
E-mail: hello@mytoygarden.com
Website: mytoygarden.com
Founded: September 2011
Owner: Tim and Janet Pillsbury
Owner's background: Janet Pillsbury, 44, was a teacher for 17 years. She augmented her income organizing home shopping parties for Discovery Toys before tackling sales full-time when she and her engineer husband, Tim, relocated from Atlanta in 2005.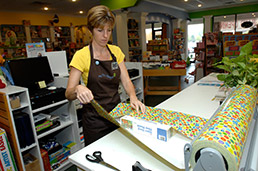 Owner Janet Pillsbury opened My Toy Garden as an alternative to big-box toy retailers. (IBJ Photo/Perry Reichanadter)
Her experience working with children and families—including some with special needs—made Pillsbury a believer in the value of toys that are educational as well as fun. The mother of two (Lily, 4, and Nicholas, 18 months), she said most mass-produced entertainment options "prey" on children, putting profit before anything else. "That is wrong to me," she said.
Why started business: "It is our goal to give all families a place to come, enjoy, connect, learn and be inspired," she says on the store's website. Pillsbury decided to strike out on her own early this year after an ownership change at Discovery Toys left her restless.
Although she was familiar with the industry, she had a lot to learn about running her own shop. Her first step was soliciting feedback from potential customers through an online survey, which helped her shape her business plan—and ultimately land an SBA-backed bank loan (after four denials).
Pillsbury also joined the Chicago-based American Specialty Toy Retailing Association, which gave her access to many of the resources she needed to get started, and sought advice from the local Service Corps of Retired Executives program.
Ultimately, she found a location near her family's home in Carmel, oversaw remodeling of the former design center, and stocked the shelves she bought from a closed Border's bookstore nearby.
"I believe if you're on the right path, everything falls into place," Pillsbury said of her quick ramp-up. "Everything just clicked."
 
Competitive advantage: My Toy Garden aims to promote play in a variety of ways—which Pillsbury has dubbed the "Pathways of Wonder." Merchandise is organized around those seven themes: literacy, games, construction, puzzles and patterns, creative expression, sensory exploration and active play.
Pillsbury and her two part-time employees—including one who also came from Border's—ably guide visitors through the store, pointing out popular items and explaining the lessons they impart. The game "Funny Faces," for example, makes a connection between emotions and expressions, something that can be particularly challenging for children with autism.
Several boxes are open, allowing customers to try before they buy—with or without kids in tow.
"Adults need to play, too," Pillsbury said.
A weekly newsletter alerts customers to new products or special savings, reinforcing her mission of providing affordable quality.
Startup cost: $140,000
Funding source: Huntington Bank loan, personal funds
Potential problem and contingency plan: Like many small businesses, My Toy Garden faces competition from big-box retailers as well as other homegrown firms. But Pillsbury and her central Indiana peers hope their unusual products and personal touch draw customers.
In fact, she is one of six independent retailers—in Carmel, Zionsville, Brownsburg and Franklin—joining forces to promote Neighborhood Toy Store Day on Nov. 12. "We can help each other build a strong business," she said. With different price points and product mixes, she said, the stores don't have to be cut-throat competitors.
First-year goal: Pillsbury accomplished her biggest goal when the store opened in time to work out the kinks before the lucrative holiday shopping season. Now she's focused on keeping the shelves full and the cash register ringing.
"You get nervous when you see the bills come in," she said. "But what I'm doing makes a difference. The money will come."
 
Please enable JavaScript to view this content.