Welcome to What's New Wednesday, where we profile local startups—and the entrepreneurs behind them. This week, we meet Brian Noffke and Beth Hofmann, who opened Acting Up Productions in downtown Greenfield in late summer.
Type of business: Acting school, production company, art gallery
Address: 12-1/2 W. Main St., Greenfield
Phone: 373-5390
E-mail: brian@actingup-productions.com, beth@actingup-productions.com
Website: www.actingup-productions.com
Founded: June 2011
Owners: R. Brian Noffke and Elizabeth A. Hofmann
Owners' backgrounds: Artistic Director Brian Noffke, 35, has been involved in theater since high school. He was a theater major at what was then Marian College when he got his first acting gig, and decided to put his education on hold while he was working. Noffke never went back, but he has taken some online classes and is planning to work toward a degree in information technology at Harrison College next year.
Noffke has experience as an actor, director, designer, stage manager and producer—and has been part of productions throughout central Indiana. He met Business Director Beth Hofmann three years ago when they were working on "Fiddler on the Roof" at the Ricks Centre for the Arts in Greenfield, where both of them live.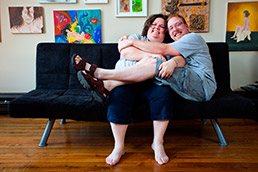 Friends Beth Hofmann and Brian Noffke run Acting Up Productions in Greenfield. (Provided photo/Dario Impini)
Hofmann, also 35, also has a longtime love of the arts. She began singing in church as a girl and participated in community theater productions in Richmond and Muncie. She started out as a music education major at Ball State, ultimately earning a bachelor's in humanities at Indiana University. She got a master's in business communications from Jones International University in 2007.
The mother of three adopted children, she moved to Greenfield with her family about five years ago and works a full-time job at Nexcyon Pharmaceuticals in Pendleton.
Why started business: Now close friends, Hofmann and Noffke said they felt an immediate connection when they met—a bond she likened to that of twins. (Interestingly enough, Noffke has an identical twin brother, Christopher, who is a choreographer in New York City.)
Noffke, who had some experience teaching in the theater, had always wanted to start his own private acting school. Hofmann had a passion for the theater and a background in business.
"We created this dream, and then one day realized it could happen," Noffke said.
So they started putting together a business plan, and Acting Up Productions came to life as a combination acting school/production company/art gallery. Their goal was what they called "collaborative creation"—an artistic cross-contamination of sorts.
While the production company was working on its adaptation of "Night of the Living Dead" last month, for example, the Gallery @ AUP featured a juried exhibit called "Art of the Living Dead." And this month's "Confessions of a Highway Flirt" was staged in the gallery itself, exposing actors and audience alike to the art.
The partners now are consolidating the second-floor space they rent in downtown Greenfield, moving the gallery into the open classroom.
Competitive advantage: AUP offers a range of classes: 10-week group sessions for children and adults, one-on-one "master" lessons, vocal training, and specialty classes like audition prep.
The partners say they're distinguishing themselves with their prices—group lessons are $120 for 10 two-hour sessions, for example—and their student-centric approach, which begins with an audition/interview for everyone.
"It is not one-size fits all," Hofmann said. "We cater to the individual student's needs."
On the gallery side, AUP charges artists a small monthly fee to display their work but takes no commission on sales, something Hofmann said is unusual in the art world.
"Everyone needs to make a dollar, but we're trying not to be money grubbers," Noffke said.
That's true of the production company, too. Noffke said revenue from its shows is used to cover expenses and pay actors. AUP aims to create a theater experience that is free of the competitive drama the partners say is all too common backstage.
When they started the business, Hofmann and Noffke wrote the word "ego" on a piece of paper and burned it. AUP isn't about them, they said. It's about the art.
"We are very supportive of each other. It's not about who you are and how long you've been doing this," Hofmann said. "We're doing this because we love it. And because we're crazy."
Startup cost: $4,000-$6,000
Funding source: Personal savings
Potential problem and contingency plan: The partners debated for some time on a location for the business, ultimately agreeing to stay close to home despite the distance from the region's cultural center in Indianapolis.
They believe Greenfield is an untapped market for acting classes—though two other production companies are nearby—and art exhibits alike.
"The biggest hurdle is getting people into our school, into our gallery," Noffke said. "We're still working on it. It's a long process."
So far, they've reached out to area schools' drama departments to drum up prospective students and say the response has been positive. And AUP got tongues wagging when their "Night of the Living Dead" zombies marched in Greenfield's Riley Festival parade in October.
To minimize their risk, they made it a point to start the business without taking on debt.
First-year goal: Survival is foremost on the partners' minds. Noffke said they want to end their first year in the black—although he doesn't expect to turn much of a profit—with a growing student roster and a business that is still evolving.
"I'm hoping we can look back and say, 'We may have made this mistake or that mistake, but we needed to in order to get where we are now,'" he said. "We don't beat ourselves down when something goes wrong.
 
Please enable JavaScript to view this content.